Sonic Mania Genesis-themed collector's edition release made official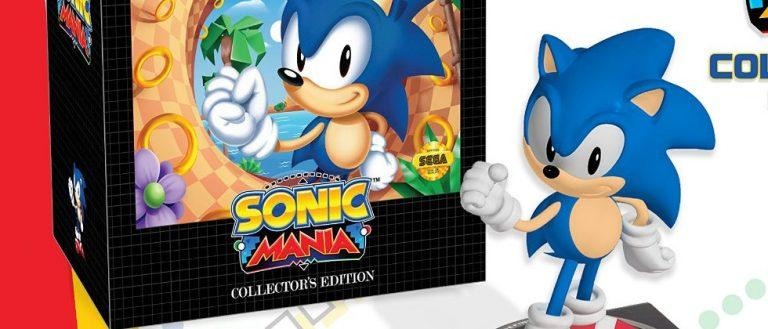 It's safe to say that Sonic Mania is a game that has old-school Sonic fans more excited than they've been in a long time. It's been a turbulent road for the Blue Blur ever since he made the jump to 3D, with many hoping to see a return to his 2D platforming roots. Sonic Generations got us halfway there, while Sonic Mania fully embraces the character's 16-bit past. If you've avoided gameplay videos thus far, one look at the freshly revealed collector's edition of the game is all you need to see just how much of a throwback Sonic Mania is to the 16-bit era.
That's because the bonuses that come packed in with the Sonic Mania collector's edition are heavily themed around the Sega Genesis (or the Mega Drive if you happen to be reading this from Europe). The star of the show is the 12-inch statue, which features classic Sonic standing on top of a Genesis and plays the old Sega start up sound with the flip of a switch. The package also contains a replica of a Genesis cartridge that features one of Sonic's golden rings, and box art reminiscent of the hedgehog's glory days.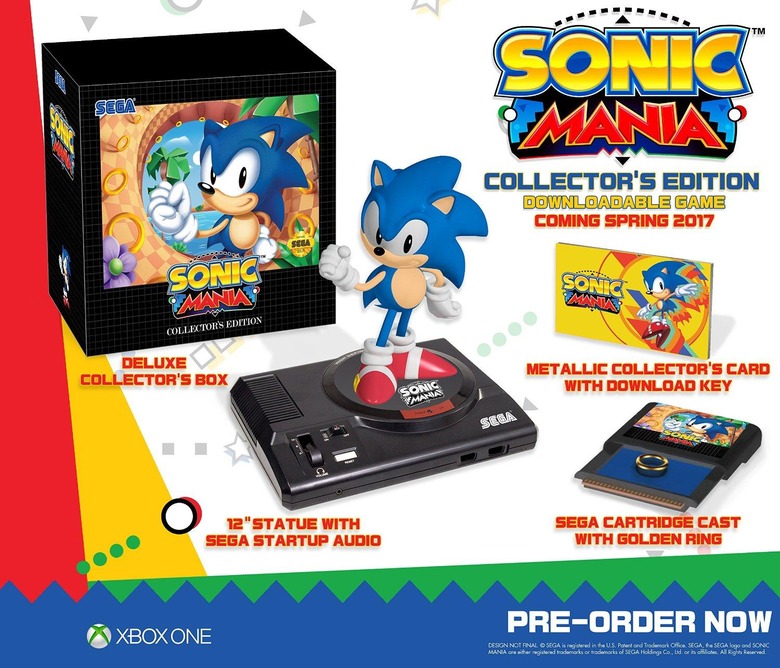 Interestingly enough, this doesn't come with a physical copy of the game, but rather a download code for Sonic Mania. Expect to pay a pretty penny to own this collector's edition, as the Amazon listing for the package comes in at $70 – not much more than a standard retail release, but if this is going to be a purely downloadable title, that price tag is probably significantly more expensive than the cost of the game on its own.
Sonic Mania was revealed earlier this year alongside another Sonic game that doesn't have a title yet. Known only as Project Sonic 2017 for the moment, a brief teaser trailer for the game showed off both modern Sonic and classic Sonic, suggesting that it could be a follow up to 2011's generally well-received Sonic Generations. If that's the case, then it looks like longtime fans of the Sega mascot are in for a heaping helping of classic Sonic action next year. Sonic Mania launches for Xbox One, PlayStation 4, and PC in early 2017.