Sonic Chair now adding 20-inch "Touchscreen iMac" to their luxury Sonic Chair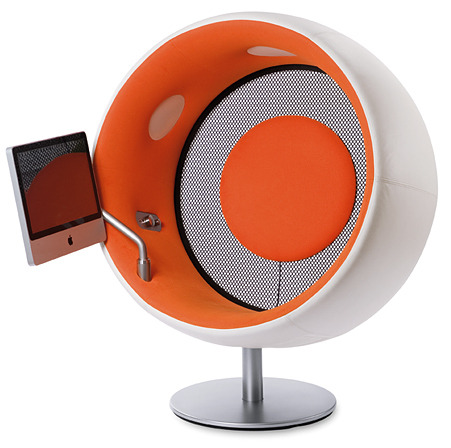 In an effort to prevent everyone from leaving their products back in the 90's, Sonic Chair has added a 20-inch "touchscreen" iMac to their popular Sonic Chair. The Sonic Chair Touch features the same built-in speakers and input jacks that we have grown accustom to with the addition of a computer that is quickly growing in popularity.
Now users will not only get great bass and focused acoustics thanks to the integrated noise cancellation technology, but you can surf the web to. Today's chairs just seem to be going the extra mile for us recently. The 20-inch touchscreen iMac features a 2.0 GHz Intel Core 2 Duo processor, 1GB memory and 250GB hard drive, 8 x SuperDrive and ATI Radeon HD 2400 XT graphics.
This chair remains a luxury item with the top-grade leather and sueded microfiber lining on the inside.  We really don't know what to think about the "touchscreen iMac." Originally we figured this was a typo, but including Touch in the name of the chair throws us for a loop. It also seems odd that there is not a purchase price for this particular model, which also may point to a problem getting a device that is nonexistent. It will be very interesting if they do intact produce this chair.