SolarKindle case packs sun-charged battery and reading lamp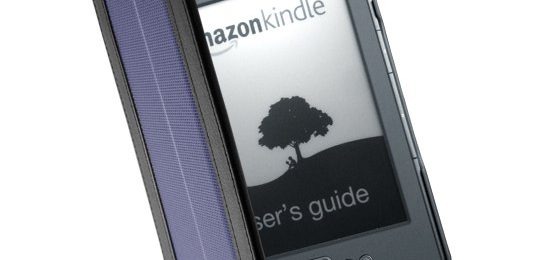 E-Ink's power-sipping frugality makes it an ideal partner to solar panels, and so it's hard to believe SolarFocus' SolarKindle idea hasn't been offered before. A combination case, recharging system and LED light for the Kindle ereader, the new accessory is fronted by a bank of solar cells that recharge an integrated 1,500 mAh battery pack. That battery can be used to top up your Kindle's power, turn on the flip-out LED lamp, or both.
The 7.9 x 4.7 x 0.72 inch case holds the Kindle in place using foam inserts, and controls are limited to a single power button. An LED indicator shows battery status – either red, amber or green – and an hour of direct sunlight is apparently good enough for three days of ereading.
As for the LED light, that's an 800 lux lamp for bedtime or airplane reading, pivoting out of the top section of the case and illuminating the non-backlit epaper display. A pass-through USB port recharges both the Kindle and the case.
It's available for order now, priced at $79.99.