Solar powered Samsung NC215 hits Amazon pre-order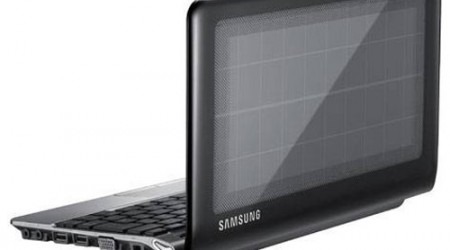 As solar panels, become more efficient and able to create more power we will see more and more devices that adopt the tech to help keep their batteries charged up and running. Samsung has an interesting netbook called the NC215 that uses a solar panel on the lid to keep the battery charged and the netbook working. Other than the solar panel on the lid, it looks like your typical netbook and has typical hardware.
The machine has a 10.1-inch screen with a resolution of 1024 x 600 and that screen has a matte finish. Matte finish is a good thing for a notebook that will be used in the sun a lot. You can only get the machine in black and Amazon doesn't note the official launch date. The netbook runs an Atom N570 processor and has 1GB of RAM inside.
Storage is to a 250GB HDD and the machine has WiFi, Bluetooth, and a LAN port and runs Windows 7 Starter. I wonder how well the solar panels work and how much extra run time the user can expect. The typical solar panel isn't very efficient and takes a long time to charge. The pre-order price is $399.
[via Netbooknews]