Solar Powered Necktie Is A Stylish Statement; Clever Charging Station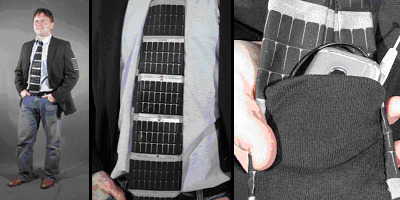 Researchers at Iowa State University came up with a pretty cool tie. But this is no ordinary tie. It's a Solar Tie, that utilizes photovoltaic textiles in a unique and sensible way. After all, what better way to take advantage of the solar shell pattern than on ties, which are known for their checks and outrageous patterns? It's just makes sense.
Besides the appearance of this tie–which really isn't all that odd– the Solar Powered Necktie also has a pouch for storing your cell phone while it charges. Yeah, that's right. Your tie will charge your cell phone.
There aren't any mass marketing plans for this one at the moment, but I could definitely see this sort of thing taking off. Regardless of a market, however, this is a pretty neat idea.
[via Coolest Gadgets]