Socialmatic promises Instagram-for-real prototype by end of year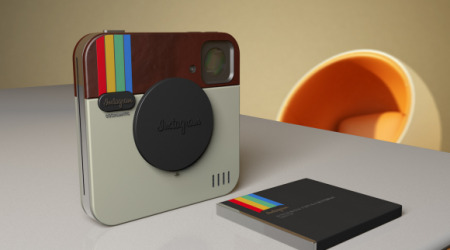 Earlier in the year, a design team called ADR Studio created a camera concept based off the Instagram icon used for iOS and Android. Now the designer of Socialmatic, Antonio De Rosa, says the concept could see a fully working prototype before the end of the year. De Rosa recently returned from Singapore where he met several manufacturers based in Hong Kong, saying that he had secured a partner that will bridge the gap between the concept and the manufacturing.
ADR tried to secure $50,000 in funding from IndieGoGo earlier in the year, but failed to reach its target goal. A private investor swooped in, however, allowing the team to continue with the project and begin searching for manufacturers. De Rosa confirmed that the final name of the camera will be Socialmatic, saying that there's a strong demand for the camera despite the failure of the IndieGoGo funding.
The camera is designed to take Instagram style photos, but also features an integrated printer so that you can give a physical copy of the photo to anyone. The Socialmatic would come with 16GB of storage, WiFi, a 4:3 touchscreen featuring the company's custom InstaOS, and two lenses; one for the main photo capture and a second for 3D filters among other applications. InstaOS, meanwhile, is said to pull the best features of the Facebook and Instagram apps.
[via International Business Times]