Snoop Dogg Promotes Samsung Galaxy Indulge on MetroPCS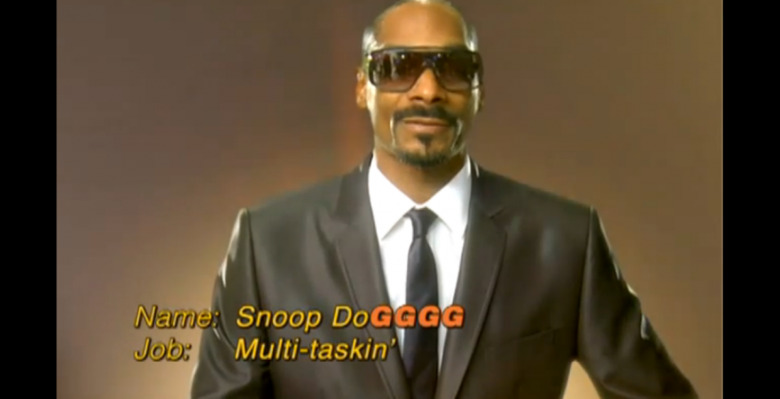 If you don't know everyone in the video you're about to watch, you might not get the depth. However, the smoothness of the 4G LTE connection is as apparent as the additional Gs in Snoops new name, thustly MetroPCS has done their job well. See Snoop Dogg (with a double dose of Gs,) Warren G, model Brittany Dailey, and Ted Williams – the man with the Golden Voice all work together to bring you The G Connection in promotion of MetroPCS and the Samsung Galaxy Indulge.
First, have a look at this video and tell us if you understand what's going on, or what you'd think if you saw such a thing on television right this second – keep in mind that this is brand new:
Now let's get down to business explaining the players in this masterpiece, each of them one by one:
Ted Williams, the man with the Golden Voice was only a few months ago completely homeless and broke. Have a look at his story here: [CNN report]
Warren G has never been broke, and in fact has been a player and a regulator for over 20 years. The G-Connection is his show in this promotion, and the "Regulators, mount up!" comes from his classic smooth rapping gangster hit: Regulate
Snoop Dogg started his career around the same time as Warren G, having been a partner of his at the time they both hooked up with Dr Dre launching them into superstardom. Snoop has an album called the Doggumentary coming out soon, thus this collaboration (with his type logo modified and in tact) makes perfect sense. Furthermore, his 2007 hit Sexual Seduction features a video style very similar to this new dating show promo.
ALSO there's an "Indulge with Snoop Dogggg" sweepstakes where you've gotta head out to your local metroPCS store to sign up and win. If you win, you get a VIP trip for two to a Snoop concert this summer – this includes airfare and incidentals for two, front-row tickets, backstage passes, and two Samsung Galaxy Indulge phones with metroPCS 4G LTE service. Sounds fine, real fine. Check out the full press release below:
NOTE more videos will be released throughout the day today (and we assume in the near future,) so stay tuned!
METROPCS ANNOUNCES NEW COLLABORATION WITH ICON SNOOP DOGG

Superstar adds more Gs to his name to help introduce the Samsung Galaxy Indulge, the world's first commercially available 4G LTE Android smartphone, available exclusively from MetroPCS

DALLAS, February 23, 2011 /PRNewswire/ — Snoop Dogggg has doubled down on his G's through his new collaboration with MetroPCS to introduce the new Samsung Galaxy Indulge™, the world's first commercially available 4G LTE Android™ smartphone offered only with 4GLTE service from MetroPCS.

"It feels good to be working with MetroPCS and Samsung for the launch of the Galaxy Indulge. I'm stepping it up to 4G's so my phone can keep up with my demanding, always-connected lifestyle," said Snoop Dogggg.

Fortunately, any consumer can indulge in the 4G lifestyle like Snoop Dogggg because MetroPCS offers 4GLTE smartphone service plans at about half the cost of other carriers' 4G smartphone service plans today. With $50 and $60 plans, including all applicable taxes and regulatory fees, MetroPCS delivers unmatched value with unlimited talk, text and 4GLTE Web page browsing, along with data access to streaming audio, video and gaming content, downloads and Android applications on the Galaxy Indulge.

"Indulge With Snoop Dogggg" Sweepstakes

The superstar's fans can win a rare chance to meet Snoop Dogggg up close and personal by entering the "Indulge with Snoop Dogggg" sweepstakes exclusively at any MetroPCS retail store through March 31 (no purchase necessary to win). One winner will walk away with a VIP trip for two to a Snoop concert this summer, including airfare and incidentals, front-row tickets and backstage passes, as well as two Samsung Galaxy Indulge smartphones with MetroPCS 4GLTE service. More details are available at http://www.metropcs.com/snoop-dogggg-vip-rules.

Video Series

The collaboration also features Snoop Dogggg starring as several characters in the online video series called "The G-Connection," which is based on popular dating game shows from past decades. The videos also feature rapper and producer Warren G, model Brittany Dailey, and the man with the "Golden Voice," Internet sensation Ted Williams. The videos were directed by Estevan Oriol, partner at SA Studios. The first of three episodes premieres today at www.youtube.com/MetroPCS.

Additional Chances to Win

In addition, MetroPCS and Samsung are offering more chances to win autographed Snoop Dogggg gear, Samsung Galaxy Indulge smartphones and MetroPCS 4GLTE service on MetroPCS' Facebook page at www.facebook.com/metropcs (no purchase necessary to win). MetroPCS is also offering prizes through giveaways in many of its home metropolitan area markets, including signed "The Doggumentary" CD's (in stores March 29th).

"We are very excited about teaming up with Snoop Dogggg to show consumers that they can have it all with MetroPCS 4GLTE services and the vast possibilities of the Samsung Galaxy Indulge Android smartphone," said Phil Terry, senior vice president, corporate marketing, MetroPCS. "Snoop is a great match for our brand and appeals to all of our customers, who want the latest high-end Android smartphones with 4G services at the best value."

About the Samsung Galaxy Indulge

Powered by the Android version 2.2 (Froyo) operating system (OS), the Galaxy Indulge delivers quick access to more than 200,000 applications from the Android Market™ and complete access to Google Mobile Services, as well as a combination touch screen/QWERTY keyboard, 3 megapixel camera and camcorder with auto-focus, music player, Stereo Bluetooth® capabilities and expandable memory storage up to 32GB. The Samsung Galaxy Indulge costs $399, plus tax, and is available at all MetroPCS stores and online at www.metropcs.com.