Sneakpeak of the new Windows Mobile 6.5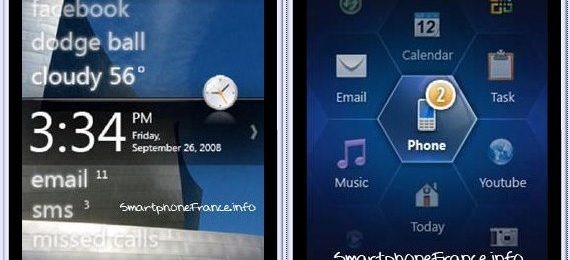 Reports have surfaced with photos that are claimed to be world exclusive screenshots of the new Windows Mobile 6.5. SmartphoneFrance.com reports that Steve Balmer, CEO of Microsoft, was very proud to unveil these two screenshots at PDC 2008. These screenshots are not of the best quality, almost suggesting that they may not be real.
At this time there is no definite information about this release, it appears that Microsoft really gave Windows Mobile 6.5 a makeover in an attempt to make up for lost time in comparison to their competitors. Microsoft seems to have done a lot to change the appearance of the outdated operating system, it remains to be seen what has else has been done to improve upon version 6.1.
Visually you can see that Windows Mobile 6.5 is very similar to what we have seen of Windows 7. From the looks of it this version should be the new Windows Mobile 7. The user interface has been reworked to be more compatible with the new wave touch screen handsets. One thing we didn't get to see in this sneak peek is the newly added Sky Market.
[Via SmartphoneFrance]