Snapdragon 8cx and Windows: what to expect from a new breed of PCs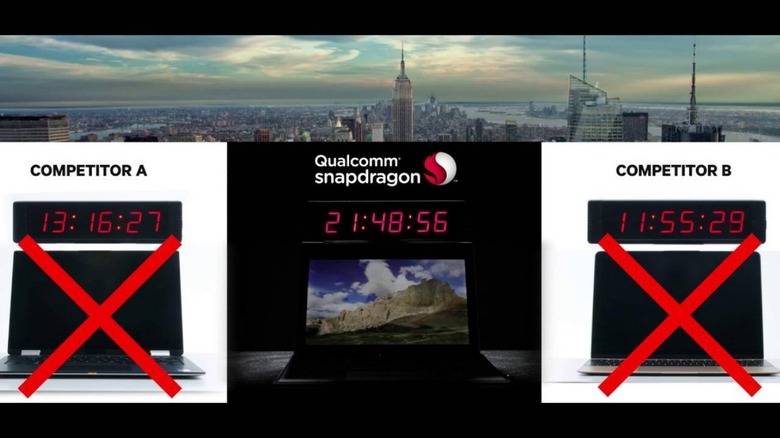 Snapdragon chips are normally associated with the processors that power our mobile devices. But Qualcomm is about to roll out its Snapdragon 8cx chips, designed for laptops – and it may just give Intel a run for its money.
Two years ago, Qualcomm put their Snapdragon processors made for mobile phones into laptops, such as the HP Envy x2 and Asus NovaGo. Phone processors have a different set of priorities compared to desktop processors like the chips from Intel. Snapdragon chips are designed to be fast while as battery-efficient as possible, to help you get through a day's work while running on 3000mAh batteries. So, thanks to the battery-saving priorities of the 835, laptops could last up to 20 hours with their screens on.
Qualcomm knew there would be a lot of excitement around a battery-focused processor. Speed, not battery, had always been their rival Intel's top priority, as its chips were mostly designed for desktops that had power sources constantly attached. And so, now we have Qualcomm's dedicated computer processor, the Snapdragon 8cx. It aims to boost laptop performance while keeping those glorious hours of screen-on time.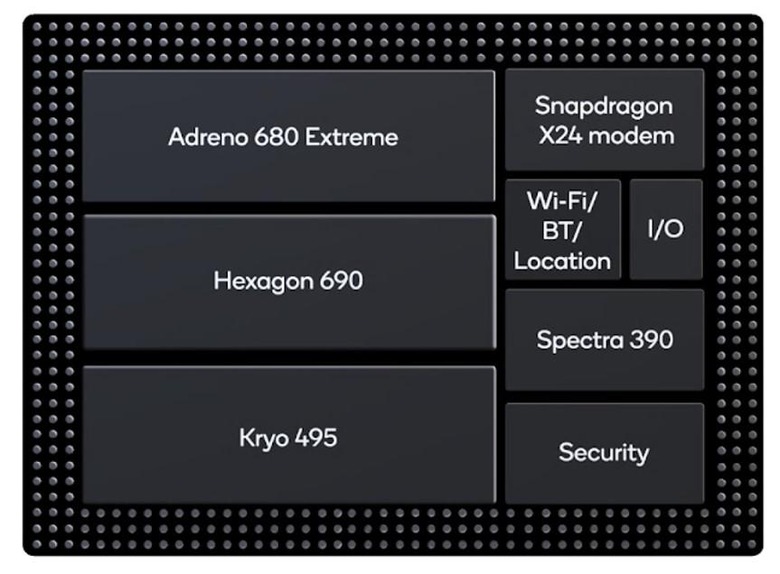 Video gamers and content creators – anyone who uses a laptop for more than internet browsing – will be pleased to know Qualcomm is beefing up its specs with you in mind. The chip itself is pretty similar to a Snapdragon 855, but with an enhanced GPU and CPU that is supposedly twice as fast as the 855.
Qualcomm doubled the number of transistors and memory bandwidth for more complex data transfers. The increased data pathway also enables output on dual 4K HDR external monitors, making this handy for home and work.
Readying themselves for the future, the 8cx is also 5G-enabled with its X55 5G modem, coupled with the older LTE one, so you can connect freely to both networks. And despite all this power, it's 60% more power efficient than the 855.
Benchmarks against the Intel i5
To answer the big question, yes the Snapdragon 8cx does indeed seem to be giving the Intel i5 a run for its money. At least, that's what tests are showing us.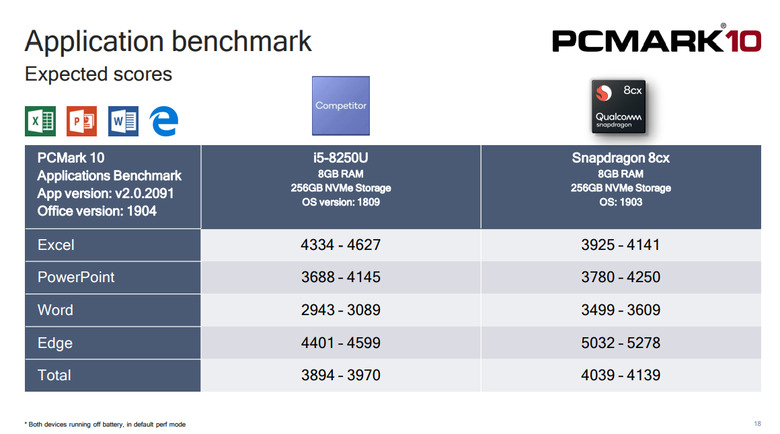 Tests run by PCMark10 are indicating the 8cx is out-performing the i5 on several fronts. On Home Office application benchmarks, the 8cs just about edges out the i5 on points, suggesting that its speed and performance should be similar.
Don't get too excited, though. These Microsoft apps have been optimized and integrated with Qualcomm technology, along with a list of other apps including Slack, Spotify, and Discord. But there are others that are still missing, most notably Google apps, such and Chrome. Qualcomm has promised such apps will be ported over soon and it'll surely be a key collaboration.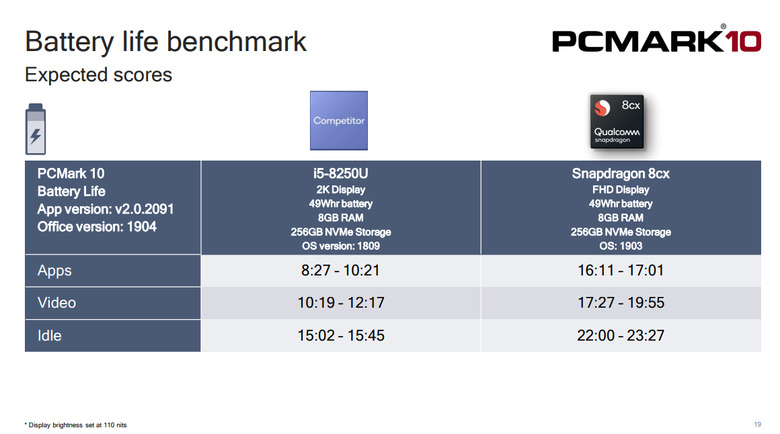 But where the 8cx completely dominates the i5 is in its battery-efficiency. It can play videos on a loop up to 19:55 hours, while the i5 came in at 12:17. And when left on idle, the 8cx can last over 22 hours.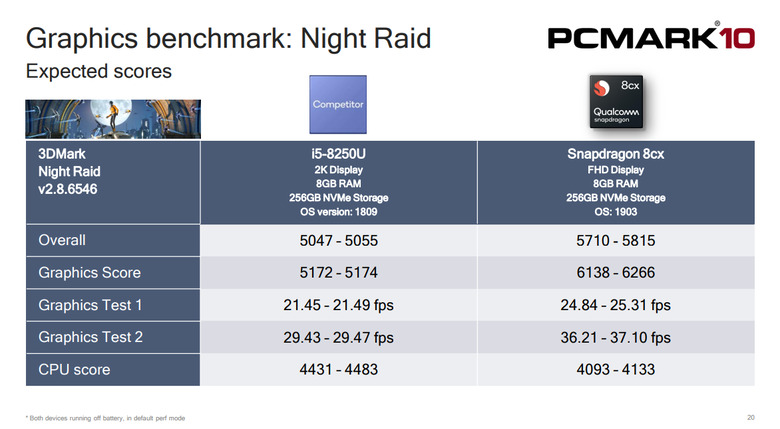 Night Raid benchmarks were also provided, which are a series of tests for devices with integrated graphics, powered by their CPU and GPUs. The i5's CPU performance was better but still lost out overall thanks to the 8cx's more advanced GPU – and by quite a bit. While we don't know what computers Qualcomm tested its processor with, its benchmark scores are certainly creating a lot of excitement.
Who is going to want it?
For starters, the incoming existence of a chip like the 8cx isn't going to change things too drastically for gamers. While its performance is significantly higher than the i5's, it's not high-end-ready but solid for indie titles and simple games for sure. Higher performances will still greatly depend on a dedicated graphics card to give that extra boost in graphical fidelity.
But where it really could set itself apart is in the battery life. You're getting a lot more screen-on time here than usual, aiding productivity and people who frequently move around the office a lot without wanting to shut down the computer and wait for your laptop to reboot.
The 8cx also follows the Snapdragon's concept of Always Connected PCs (ACPCs). Similar to mobile devices that are always on, always connected, ACPCs don't want to be shut down but actively connected to cellular networks like an extension of your phone.
Granted, most telcos today don't supply laptop-oriented plans so its ACPC concept may not be applicable for the most of us. But the potential success of the 8cx could open doors to a whole new way we use laptops and is certainly a welcome rival to a market dominated by Intel.