Snapdragon 615: Qualcomm's 64-Bit Octa-Core Race Horse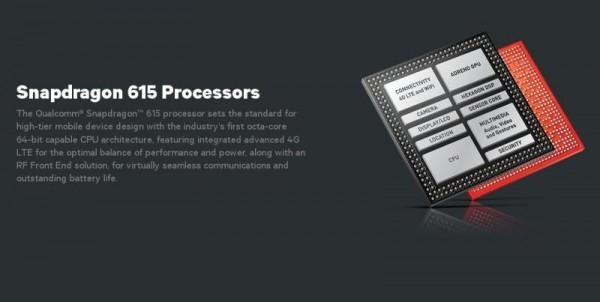 Qualcomm has traditionally been seen as a mountain, mighty yet unmoving. The hype first around octa-core processors and then 64-bit CPUs have not spurred it into a frenzy like its competitors have. Now, however, the giant has woken up and is ready to unleash the Snapdragon 615, expected to stir up the SoC market with its 64-bit octa-core goodness.
Qualcomm is hitting two birds with one stone here. The Snapdragon 615 is its first commercial octa-core SoC, a segment where Samsung and even MediaTek have marked their territories. It is also a 64-bit chip, practically beating out all other rivals except Apple's A7. Put the two together and you've got an industry first.
But what is so special about these buzzwords. Well, for one, you've got raw power. You have a homogeneous mix of Cortex-A53's inside, four set to run at 1.7 GHz and the other half at only 1.0 GHz. This big.LITTLE arrangement is quite unique. Most octa-core chips would have a mix of high-power cores and low-power cores. On the other end of the spectrum, MediaTek's "True Octa-core" all have the same chips but all clocked with the same speeds. Then there's the 64-bit, which in theory will allow a device to access more than 4 GB of RAM. Of course, in practice, it would need operating systems to fully take advantage of that, not to mention devices to ship with a lot more RAM. A 64-bit architecture would also naturally upgrade the data bandwidth and throughput that the system-on-chip will be capable of handling. At least, of course, that's the theory.
The Snapdragon 615, of course, comes with an array of features that go beyond those core properties. It's modem is capable of handling Cat 4 LTE speeds. It supports screen resolutions of up to 2560x1600 WQXGA, which seems to be the new standard for high-end flagships. In terms of camera sensors, it will be able deftly handle 21 megapixels. For video playback, it is capable of handling 1080p resolutions running at 60 fps using h264 (AVC) and h265 (HEVC) codecs, though at 30 fps it can only support h264.
The Qualcomm Snapdragon 615 has actually been unveiled before, but based on HTC's teaser, it might actually finally be arriving in a real commercial product. Responding to a leak, HTC has teased that its upcoming Desire 820 will indeed sport Qualcomm's first 64-bit octa-core chip. This smartphone is slated to debut at IFA 2014 next week, and we'll be there to take a closer look at what Qualcomm's newest SoC really has to offer.
SOURCE: Qualcomm
VIA: Android Beat