Snapchat Now Lets You Delete Sent (And Unopened) Messages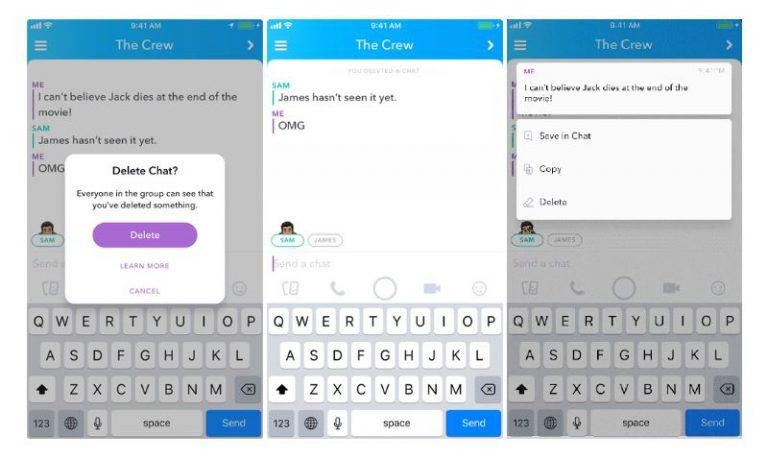 We may receive a commission on purchases made from links.
The fact that Snapchat messages are only temporary might make some of us a little more bold with our words than we normally would be. Many Snapchat users know that it's still entirely possible to send a message you regret even with the knowledge that it isn't permanent, and now, Snap is rolling out new tools to help you erase those moments. With the latest Snapchat update, functionality that allows you to delete unread messages is beginning to roll out.
There's actually no official announcement of this new feature over on the Snapchat blog. Instead, the ability to delete unread messages was first reported by 9to5Mac. Deleting a message is pretty simple, as you only need to tap and hold on the message in question and then select "Delete" from the pop-up menu.
This can be done with text messages, stickers, audio, or photos, so you can delete most things you send through the app's chatting feature. The person you're sending the message to (or everyone in the group, assuming you're purging messages from a group chat) will be able to see that you deleted something, they just won't know what that something is. This feature is heading out to some users now, while everyone should get it over the next few weeks.
In other news, Snapchat Spectacles v2 have made their way to Amazon. The Spectacles refresh seems to be off to a pretty decent start, selling out on Snapchat's website shortly after they launched in April. By bringing Amazon on board as a retail partner, Snapchat simply gives you more options for buying Spectacles (along with Prime shipping if you happen to have a membership, which many do).
Spectacles are launching on Amazon for the same price Snap is charging on its website – $149.99. You're also a little more limited when it comes to color choice when you're buying through Amazon, as it doesn't allow you to customize the color of your lenses. As long as you're okay with those restrictions, you can pick up a pair of Spectacles v2 from Amazon now.