Smooth sound from Saitek's pebble-like iPod speakers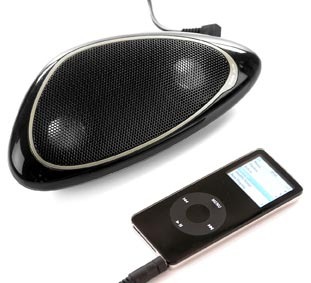 After a while all the iPod accessories start to blend into one great black and white mass, and it takes something special to stand out.  Well, I'm making no claims on just how special this speaker-set is (having not heard it in action) but if the sound is a sweet as the design then Saitek are on to a good thing.  Looking like a gently smoothed pebble, the iPhonic pocket speakers are battery powered and can in fact be used with any portable audio device thanks to the standard headphone jack.  Owners of iPod's Nano, however, are specially catered for, with a cool little stand (shown in the picture after the cut).
4 AAA batteries power the twin neodymium speakers that Saitek promises have "extended bass", and the unit is clever enough to turn itself on off automatically with the music playing and stopping to reach a maximum battery life of 12 hours.  It's thankfully scratch-resistant, though that doesn't necessarily mean you can keep it rattling round your rucksack with your keys and expect it to come out unscathed!  Available now for $69.95 and £39.99.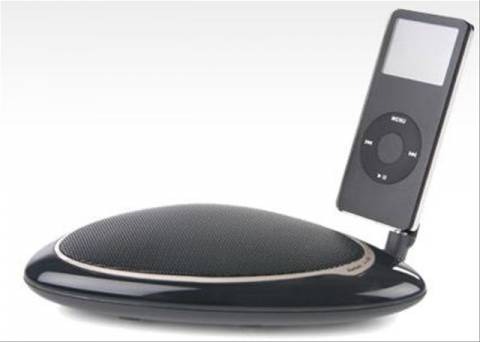 Saitek Audio [via Krunker]