SMiT, Optima Show Off New MIDs; Android For SmartQ [Video]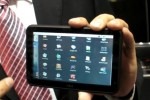 Intel may still be pushing their vision of MIDs (Mobile Internet Devices) but that doesn't mean everyone is singing from the same song-sheet.  SMiT and Optima have both been showing off their attempts at compact handheld web-access devices, the former slapping Android onto a 4.8-inch touchscreen tablet while the latter has picked Maemo for their 4.3-inch MID.  Meanwhile SmartQ's Q5 and Q7 are both seeing development of various mobile platforms.
Video demos after the cut
Those platforms include Android and the Maemo 4-based Mer 0.15, together with at least two versions of the standard SmartQ build.  There's also Wince 6.0, which certain owners can claim a free license to.
As for SMiT's tablet, it has an 800 x 480 touchscreen, integrated GPS and WiFi, 8GB of onboard storage and integrated 3G on the roadmap.  The Optima, meanwhile, is even more portable but packs the same resolution; it also has less memory, at 4GB, but there's a microSD card slot too.  ARM-based, it has WiFi and 3G is being pushed by China Telecom as the device to get hitherto-unconnected people in China online.  However export also figures among their intentions.
What we don't know about either new device is the price, nor whether they'll actually see releases in the US or Europe.  If they could bring them in at under $200 then they could stand a decent chance against name-brand devices like Nokia's new N900
Smit 5-inch Android tablet:
Optima Maemo Linux MID: