Sony has indeed come out with a new batch of wearable devices for IFA 2014 but its giving its collection a slightly different twist this time around. Introducing the SmartBand Talk, a fitness band with a curved e-ink display and the new SmartWatch 3, the first Sony Android Wear smartwatch.
The SmartBand Talk's display has been the subject of a very recent leak and this formal announcement from Sony confirms that feature but also adds a ton more. While the absence of touch controls might seem a bit limiting to those who are now more attuned to how smartwatches function, this SmartBand is by no means untalented. The wearable's built-in microphone and speaker not only makes it possible to receive calls from your wrist, it also gives users the ability to control some aspects of their paired smartphone using their voice alone. Plus, the 1.4-inch e-ink display gives the SmartBand Talk a longer battery life, without making users miss out on important notifications and data.
The SmartWatch 3 is more like your traditional smartwatch and, when it comes to the specs, it shares much in common with other Android Wear devices, like the 1.63-inch 320×320 screen, 4 GB of storage, and, of course, Google's wearable platform. This extends the SmartWatch 3's use beyond that of an activity monitor into a notification hub and quick action center. Like the SmartBand Talk, this smartwatch is rated IP68, making it the perfect accessory for an active lifestyle.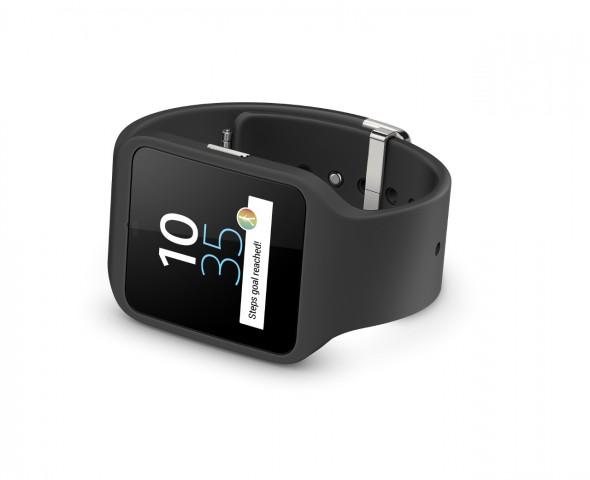 But Sony's SmartWear isn't just about fitness and notifications. Sony has turned these devices into lifelogging instruments, focusing on helping users keep a record of their lives for future reference and reminiscing. To that extent, Sony will be giving Lifelog, currently an app already available on Google Play Store, a life of its own. Later this year, it will testing a new web interface for Lifelog to give users more control over their life data. In addition, there will soon be APIs available to integrate Lifelog into other apps as well.
Both the Sony SmartBand Talk and the SmartWatch 3 will launch in autumn 2014, together with the rest of the Sony's IFA 2014 band. The SmartBand Talk will launch with only white and black styles, but more vibrant colors are promised to arrive later this year. On the other hand, the SmartWatch 3 will immediately come with Classic Black and Sport Lime, with Pink and White to follow later.