SMARTvr virtual reality viewer works with any smartphone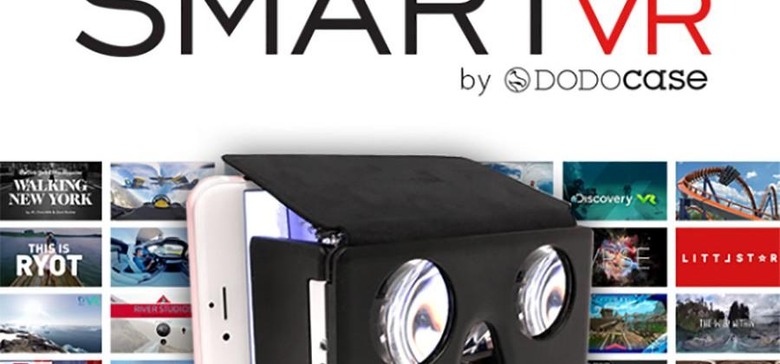 Virtual reality viewers for smartphones are a big deal these days with lots of them coming onto the market. The most basic and affordable of them is the Google Cardboard viewer made out of basic cardboard. A company called DODOcase has a new VR viewer that is made out of plastic and works with any smartphone called SMARTvr. Since the device is made from a more durable plastic, it will last longer than the Google Cardboard will.
Smartphones are attached to the viewer using clips on the front that the phone just slides into. The lid flops up to block light when in use and has a soft material to protect the lenses when not in use. The viewer is small and compact when folded making it easy to carry on the go. It is also Google Cardboard Certified by Google.
The lenses used in the viewer are 34mm premium units. The viewer is about the size and thickness of a smartphone when folded. The SMARTvr headset doesn't appear to wrap itself around the eyes of the user to block out light; it has a rather flat design. The device measures 65.6mm x 120.5mm x 16.5mm and weighs 3.2 ounces.
Any smartphone from 6mm to 12.5mm thick will fit inside the headset clips. The field of view is 100-degrees, the 34mm lenses are biconvex, and the cover that protects them is microsuede and is removable. The project is seeking $25,000 and has raised over $22,000 at the time of writing. A single SMARTvr headset will cost $28 with shipping expected in June. Companies wanting to use these as marketing material can get a custom pack with 50 headsets with their logo for $1820.
SOURCE: Indiegogo