SmartQ 5 MID specs & photos emerge: just $132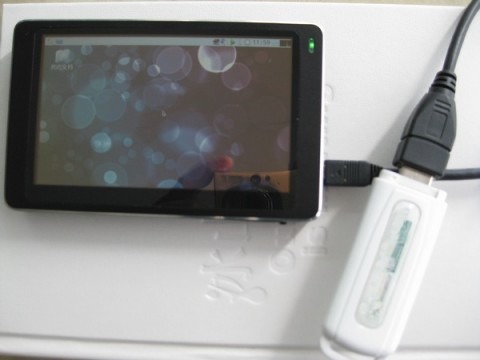 Further details on the Moses SmartQ 5 MID have emerged, together with live photos.  The 4.3-inch WVGA touchscreen mobile internet device – first spotted back in February - is now known to have a 667MHz ARM11 processor, 1GB of internal storage (of which 256MB is available to the user) and an SD slot for cards up to 32GB in size.  The SmartQ 5 is also compatible with EDGE USB modems, thanks to USB-host connectivity.
We're hoping that it'll also play nicely with 3G modems; onboard wireless connectivity is limited to Bluetooth 2.0 and WiFi, the former of which can be used to tether to a nearby cellphone.  Dimensions are 120 x 74 x 14mm and the SmartQ 5 weighs around 160g; the battery is a 2,000mAh unit, but there are no estimates on runtime as yet.
In China, the Moses SmartQ 5 MID is apparently going for just 899 yuan ($132), which despite the low internal storage is a bargain for the functionality.  Still no word on whether it'll be available in the US or Europe.