Smartphones outpace PCs for the first time in Q4 2011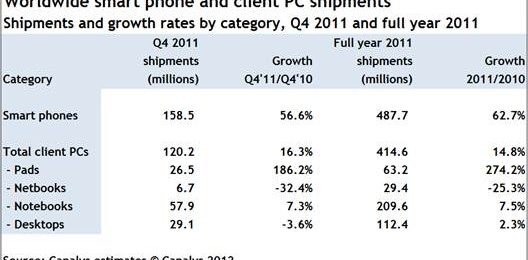 According to detailed Q4 2011 shipment estimates released by research firm Canalys, global smartphone shipments have surpassed that of PCs for the very first time. Vendors shipped 488 million smartphones in 2011 compared to 415 million PCs.
During the fourth quarter last year, vendors shipped 158.5 million smartphones, which is a 57% boost from the 101.2 million units sold in Q4 2010. Vendors shipped 120.2 million PCs in Q4, but that number includes tablet PCs. If you take out tablets from the mix, only 93.7 million PCs were shipped.
Leading the pack in global smartphone shipments is Apple, which shipped a record 93.1 million iPhones in 2011, while Samsung came in second with 91.9 million. Nokia dropped to third place with 19.6 million followed by RIM, but the BlackBerry maker's shipment numbers were not disclosed.
[via Business Insider]