Smartphones help the visually impaired navigate their daily lives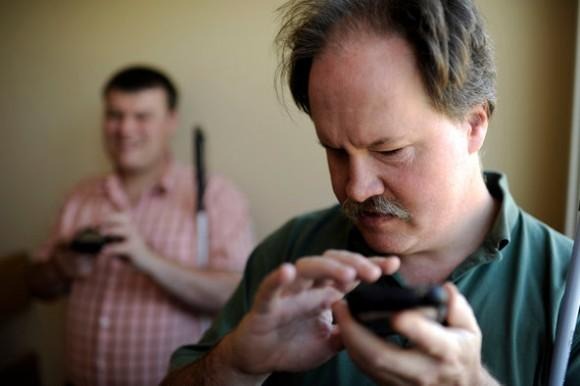 Modern smartphones, such as the iPhone and Android devices, have made it easy for the visually impaired to interact with the world and have made their daily lives easier and more independent. Early on in the smartphone world, devices didn't have much in the way of features that helped the visually impaired. Early on the iPhone only allowed users to enlarge the text, offering no help to those who were unable to see.
However, newer versions of Android devices and the iPhone have a number of assistive technologies built-in that not only make it easy for the visually impaired to use the device, but help them with their daily lives and to perform tasks that many of us take for granted such as shooting photographs of friends and family.
It may seem difficult or impossible for someone who can't see to use the touchscreen of an iPhone or Android smartphone to use the devices, but it's easier than you might expect. The iPhone for example has an assistant mode for taking pictures that tells the visually impaired person how many heads are in a photograph and where those heads are the frame allowing a perfectly aligned photograph. Android devices have a feature called TalkBack that adds spoken, audible, and vibration feedback to the smartphone.
Other assistive technologies specifically built into the iPhone include VoiceOver, which is a gesture-based screen reader. This feature lets blind users interact with the smartphone using gestures on the screen. The technology allows the visually impaired to slide a finger across the screen and it reads the name of each application as the finger slides over. The feature also allows users to hear text read aloud by the smartphone. There are also a large number of applications specifically designed to help the visually impaired.
One such app is designed specifically to help the blind and visually impaired determine what denomination a bill they're being handed is. The app can tell the difference between a one dollar bill and a $100 bill for instance without the user having to carry a bulky and expensive third-party device.
Visually impaired users do point out that not all applications are designed by their developers to be easy-to-use with features available in the iPhone for the visually impaired. Some developers don't label their controls inside the apps so when the visually impaired use these assistive technologies rather than being told what the button does when they are scrolling over, all it says is "this is a button." There is some improvement to be made, but for the visually impaired modern smartphones are opening up their world.
SOURCE: NYT