SmartGuard Pepper Spray iPhone Case revealed and detailed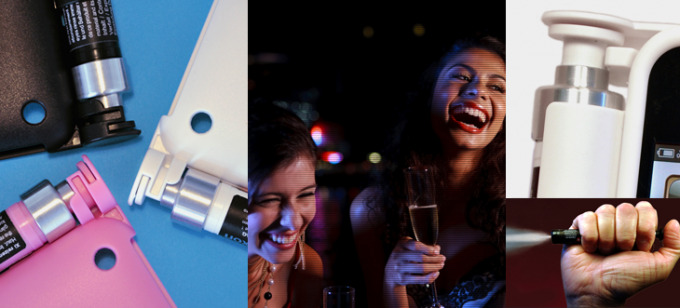 There's only one iPhone case out there today that both comes in pink and is able to bust a mugger down to his or her knees – and it goes by the name of SmartGuard. Regardless of the fact that this case cum weapon does sound sort of like an under-arm deodorant at first, the group Piexon, creator of self defense gadgets galore, implore you to not spray the contents of the attached canister under your arm. Instead this iPhone case has an integrated safety tab to prevent accidental discharge of the pepper spray inside.
This case has got to be the most dangerous (to your enemies) iPhone protector on the market today. With the exception of the Skinit Etched Metal Plate for iPhone 4S, never before have we considered taking the iPhone out to defend ourselves. Now that dream can be a reality with the SmartGuard Pepper Spray iPhone Case. You'll be dropping muggers to their knees without effort with this ultra powerful 10% Oleoresin Capsicum (2 Mio SHU) with a spray range of 1.5 meters (that's five feet).
When you've got the case engaged, you've got the canister locked in. To actually spray the pepper spray you've got to take it out and off of the iPhone case – then you've got 6 total 1/2 second bursts to take out whoever may be deserving it. So it's essentially like you've got an old six-shooter in your holster, cowboys and cowgirls! And yes, this case does have an associated app by the name of SABRE Emergency App that's also free to you iPhone users now!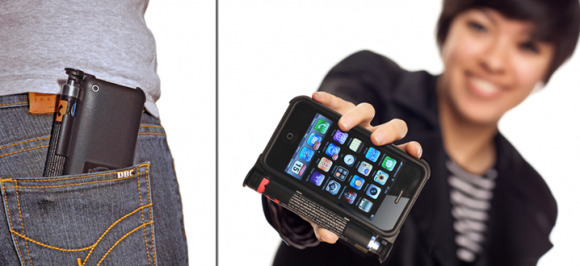 This whole setup comes in black, white, or bubblegum pink if you really want to add insult to injury, and costs 37.50 Euro. Get it imported to the United States and it'll cost you just a bit more.
Can you really put a price on pink-flavored pepper spray holding iPhone case goodness?
[via Dvice]