SmartDevices SmartV 5 MID latest handheld to offer 1080p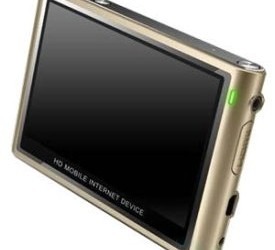 If you haven't guessed by now, we're big fans of ultraportable computers, and even happier when they can cope with 1080p video playback.  One such device tickling our fancy is SmartDevices' SmartV 5 MID, a 5-inch WVGA touchscreen handheld with a 600MHz processor, 2GB of flash storage and a choice of Android, Windows CE 6.0 or Ubuntu as OS.
The SmartV 5 MID also has a microSD card slot (content with up to 32GB cards) for all that lovely high-definition footage you'll be storing, together with both WiFi and Bluetooth.  RAM is 256MB and the MID has native support of 1080p MKV/H.264 content and an HDMI output.
The MID's USB 2.0 port also supports USB Host, meaning that you can plug in a 3G dongle or keyboard.  What's still unclear is how much the SmartV 5 MID will cost, and when it might drop.  One retailer, JTShop, has it listed for $260, while Eletroworld have a product page but no pricing.
[via Pocketables]