Smart soccer ball can tell you when it's crossed the line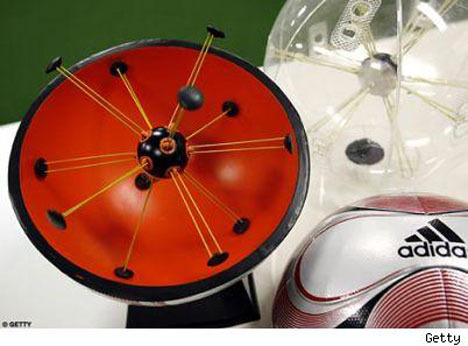 This soccer ball (I assume from the pic it was made by Adidas) has sensors in it that can communicate with sensors on the field to tell you when the ball crosses the goal line. It sounds nice, but there are a lot of tricky situations in soccer where even if the alarm in the ball went off, they'd have to review it.
Regardless, its nice to see them making some technology to try and settle disputes during those ever so heated soccer games. By the way, did you know it was called football in the rest of the world? How novel an idea to call a game where it's a ball, that you kick with your foot, football, instead of a game where the ball is mostly carried in the hands, football.
Anyways, Adidas' last ball they introduced really messed game play up due to the way it was made/shaped that allowed it to move differently due to less drag and weight, so hopefully this ball doesn't mess those things up for the players again. Its up for review with the soccer regulators after testing in Japan, so really its up to them if it ever makes it to the pro field.
Smart soccer ball knows when it crosses the line [via ubergizmo]