Smart fortwo cabrio to roll into dealers in February 2016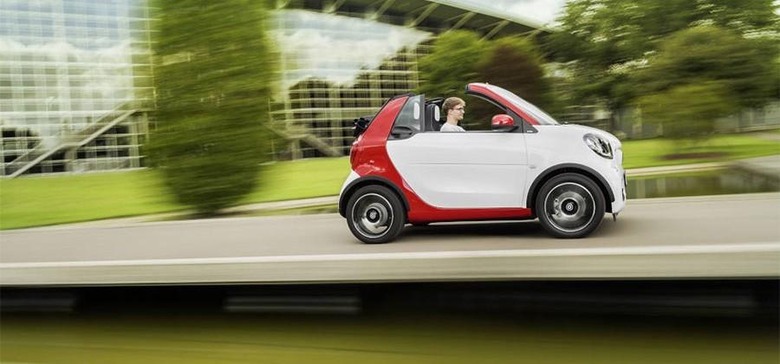 Smart has been peddling its tiny little fortwo car for a while now with a bit of success. The car is very small and is designed for city dwellers who need a tiny car that is easy to maneuver and park in tight city areas around the world. Drivers who are looking for a small, quirky ride with good fuel efficiency also choose the little car. The new smart fortwo cabrio is set to land early next year.
The official world premier for the cabrio will happen in September at the International Motor Show in Frankfurt. Order banks will open for the car in mid-November with the first models hitting dealer showrooms in February 2016. It's strange to roll out a drop top car when it's still firmly winter in much of the world.
The cabrio has a top that will come down at the touch of a button turning it from a closed two seater to a completely open drop top. Smart uses something it calls the Tritop in the car that allows the roof bars to be removed. The car measures 2.69 x 1.66 x 1.55m and comes with three different top color options including blue denim, red, and black.
The roof bars are removable and can be stored in the trunk of the car. The top is power opening and will open completely in 12 seconds. The car has a remote that can open the top from outside. The cabrio has been modified for improved torsional strength with a claimed 15% improvement compared to the coupe. The car will come with a 3-cylinder engine making 71hp and another version with 90hp. A manual transmission or dual clutch auto are the transmission options.