Slow internet problems today? It's not just you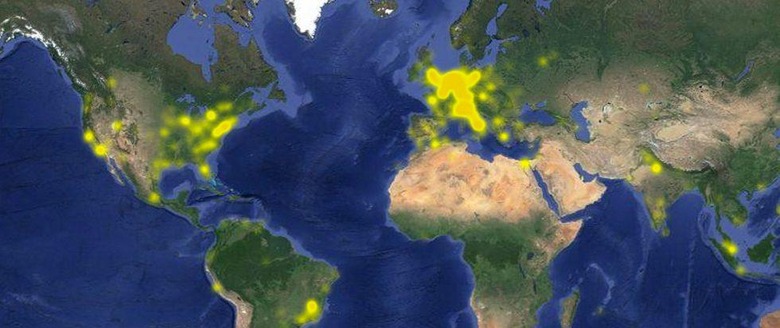 The internet's having a bit of a problem today. It would seem that TeliaSonera's translatlantic network is having an issue which is slowing – or straight up stopping – information flow between Europe and the United States. TeliaSonera's translatlantic network assists in connecting the USA to larger Europe with a series of cables that run through tubes under the ocean. Yes, if you weren't already aware, the internet is sometimes literally fitting inside and traveling through tubes.
One of the larger apps to have been affected by this situation is WhatsApp. Super-popular chat app used the world over, WhatsApp's problems seem (according to DownDetector's heat map assistant) to be mostly set in Germany, Brussels, and the UK (especially in densely populated London.)
Facebook appears to be having troubles in the same areas in Europe, but also seems to have a larger concentration of outages being reported on the East Coast of the United States. The map you see at the head of this article shows Facebook's outages courtesy of downdetector.
#FirstDayOfSummer and half the #internet falls down – coincidence? 🙄#AWS #CloudFlare #outage https://t.co/yDrpX6AvVG

— abicht (@abicht) June 20, 2016
Jen dropped the internet #aws #cloudflare pic.twitter.com/IiyGKPmwld

— Maarten Desnouck (@mdsnouck) June 20, 2016
Amazon Ireland outage: "We are investigating an issue with an external provider outside of our network" #cloudflare #aws

— Ben Sullivan (@_BenSullivan_) June 20, 2016
Half the internet is down. A good way to start my holiday! #reddit #aws pic.twitter.com/rF8bFHj50Q

— Antti Kuosmanen (@anttiviljami) June 20, 2016
According to the Independent, services like Slack and Reddit have reported down times this morning – as has web service CloudFlare.
"CloudFlare is observing network performance issues in some European locations," says CloudFlare's status page. "We are actively working to reduce or eliminate any impact to Internet users in this region."
UPDATE: As of Jun 20, 06:59 UTC, CloudFlare reported: Investigating – CloudFlare is observing network performance issues in Lima. We are actively working to reduce or eliminate any impact to Internet users in this region.
As of Jun 20, 14:53 UTC, CloudFlare updated: Identified – We've rerouted around this location, and users in the region should no longer be seeing impact.
Amazon AWS experienced issues earlier today, according to ITPro.Co.UK.
"Between 5:10am and 6:01am PDT an external provider outside our network experienced an issue which impacted internet connectivity between some customer networks and the EU-WEST-1 Region," said an Amazon AWS representative.
"Connectivity to instances and services in the Region was not impacted by the event. The issue is resolved and the service is working normally."