SlingPlayer Mobile for BlackBerry now available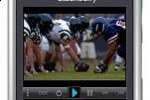 As promised, the SlingPlayer Mobile for BlackBerry Beta is now available to download.  The software, confirmed on December 18th, allows BlackBerry users to watch streamed SlingBox content over their 3G or WiFi connections, and is – while in beta, at least – a free download.  Officially the app supports the Bold, Curve 8900, 8820, Curve 8320, Pearl Flip 8220 and the Pearl 8120.
Other devices – including those limited to EDGE connectivity – will still run the app, but RIM are not officially supporting them as the data connection may be too slow for uninterrupted viewing.  One unavoidable pre-requisite is BlackBerry OS 4.5; any handsets running earlier versions of the software are out of luck.
The new SlingPlayer software can be downloaded direct to your BlackBerry by visiting http://mobile.slingmedia.com/ on the smartphone's browser.  Sling's site automatically checks for compatibility; we'd be interested to hear not only your experiences with the new beta but whether your BlackBerry is blocked from downloading the app for reasons of model incompatibility..