Sling TV Review: Taking TV back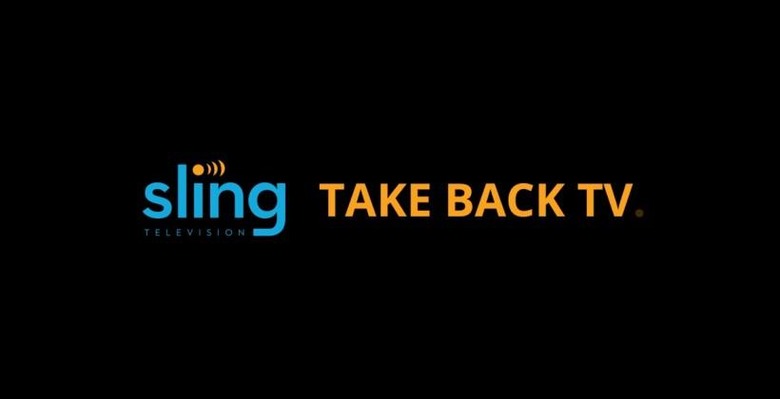 As I write this review, SportsCenter is on in the background. I've not watched ESPN in years — actual years — so this review is like revisiting a memory. I'm a bit of a cord cutter (I still get Internet via the cable company), and there are several reasons for that. Sling TV brings cable back into my life, but in the best way possible. I don't have to re-up some cable contract, and it works with streaming devices I have on every TV. It's must-have TV. Here's why.
What is Sling TV?
Sling TV is a selection of cable TV channels that work with existing streaming devices. You pay a monthly fee ($20), and you get 12 cable channels (ESPN, ESPN2, TNT, TBS, Food Network, HGTV, Travel Channel, Adult Swim, Cartoon Network, Disney Channel, ABC Family, CNN). There are add-on packages, too, which will cost $5 each. It's cable TV without a cable company. I'm not sure there's anything better.
At some point in the near future, Sling TV will offer additional upgrade packages for their existing lineup. A sports package is planned, and you can already get a kids package so the little ones get the content they want, and a news package.
Sling will also have "Maker Studio" available at launch, which they are only referring to as the "best of online video".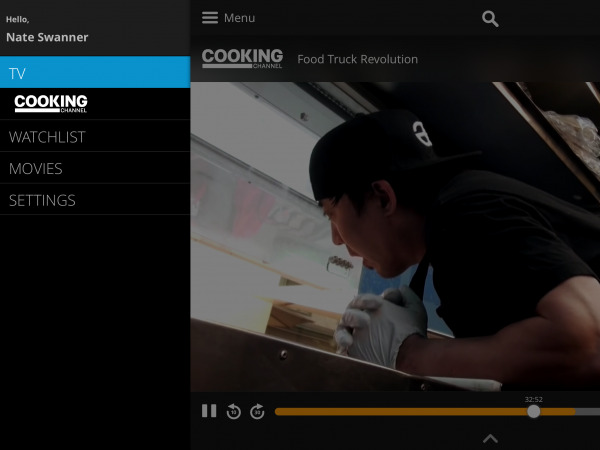 The app
Sling TV works on iOS, Android, and all current Roku devices including Roku TV and the Roku Stick. It also works on OS X, the Nexus Player, and Xbox. Amazon Fire TV owners are also included.
The app and TV interface are similarly laid out and easy to navigate. As you can see with the screenshots in this review, it's a what-you-see-is-what-you-get scenario. Choose a channel, and watch what's on. Buy a movie (some channels allow for such a thing), and it's streaming. There's also a handy "on now" option for finding content much faster.
Sling TV tells us the commercial experience you find on cable TV won't necessarily be the same with Sling (during testing, ESPN didn't even have commercials). There will be what Sling calls 'Dynamic Ad Instertion', which allows for "targeted advertising that creates a better experience for the viewer as well as advertisers and programmers."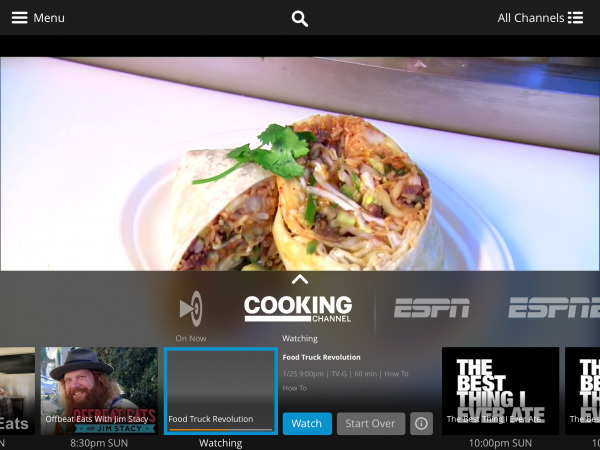 Why Sling TV is cool
Sports. Cable TV. They play on your streaming device or mobile device, and cost $20 per month. It really is that simple, which is probably the coolest thing about it.
In a quick chat with my cable company, adding ESPN would mean I'd have to roll in a package to my existing plan that would cost roughly $35 more per month after they got done playing their games. It also meant my current agreement (or lack thereof) with my cable provider would change, which could have long-term negative effects for what I spend monthly and the services I receive.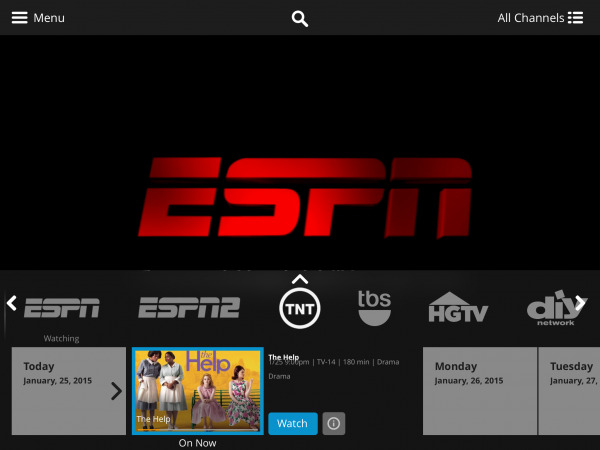 Sling TV also allows its users to sign up for WatchESPN, the sports network's app.
With Sling TV, I don't change my already acceptable plan terms and conditions with the cable company. There's no contract, either. Pay $20/month, and get cable TV. Live. You don't even have to fling content from anywhere to anywhere.
If you're picky about audio, Sling TV supports Dolby Digital 5.1 surround sound. The content you see will either be in 720p or 1080p.
The odd thing about Sling TV is that it's ridiculously simple, but is probably a watershed moment for TV. Should Sling TV catch on in a big way, your cable provider will have to react. Even if you never sign up for Sling, you'd likely reap the benefits from it someday, in some way.
With some channels, you can even watch content that played days ago should the channel support that feature. It's like DVR, except you don't need a special box.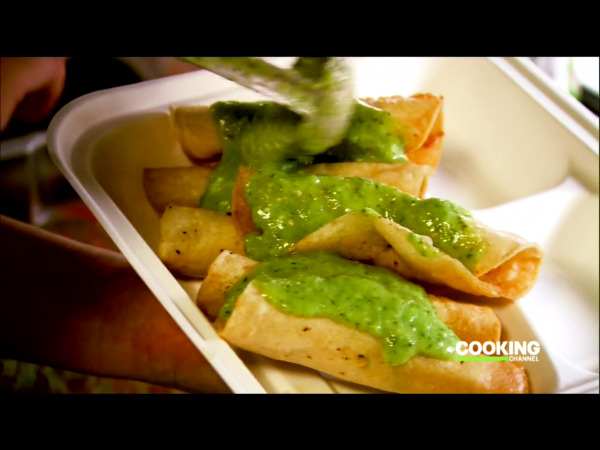 The problems with Sling TV
Sling TV is fantastic, but it isn't perfect. This 'streaming live cable TV' thing is phenomenal, but there are drawbacks.
There's no Chromecast support, and you won't find Sling TV on the Apple TV (natively). Those are two major streaming devices that Sling doesn't work with, and that's ignoring a large portion of the market. Sling tells us they're always open to new partnerships and streaming devices, but right now, that doesn't include Chromecast and Apple TV.
Commercials still exist with Sling TV. You are streaming, but it's live TV, and that means you get commercials.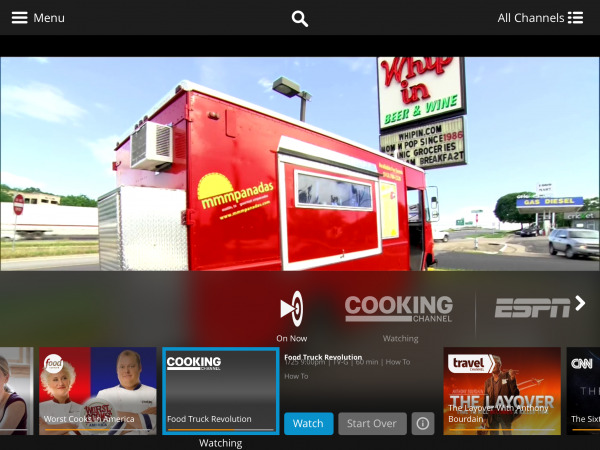 You also have to buy packages with Sling TV. You can't cherry-pick your channels, so while ESPN and Cartoon Network are attractive to me, HGTV isn't. The packages might be smaller and more affordable than your existing cable provider offers, but they're still packages. There's also a good chance you will be duplicating efforts with Sling if you're using it to supplement your existing TV plan. I have CNN twice, now, for instance.
You also don't get to stream different channels on different devices with the same account, even though you can have multiple devices linked to one account. Fast-forwarding also isn't a thing (it's live TV, remember). You can pause and rewind, and an option to go back to live exists.
Sling TV doesn't bring you local channels, and you won't get 'premium' cable channels like HBO. If you want to get local channels, a good antennae will probably do the trick, and HBO is set to offer a standalone subscription offer in April.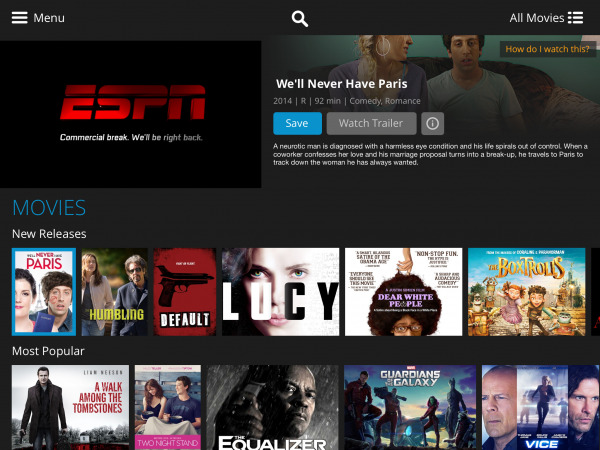 Do you want Sling TV?
The second SportsCenter is playing now, and there's still in a bit of shock I'm watching it. I didn't sign up for it via the cable company, and I'm saving money. If I wanted to get away from streaming Sling TV with the Roku on my TV, it's also on my phone or tablet.
Sling TV also puts the words "must-have" back into the discussion surrounding TV. In a time when TV is slowly fading, giving way to streaming, Sling TV is a new direction forward. The service bridges streaming and TV — two mediums fighting for your attention – in a smart, effective, simple, necessary way.
I have cable TV again. There are some really good reasons for my not having it before Sling TV, but there aren't any good reasons for not having it from now on.
If you don't have cable TV, think about why that might be. Is it cost? Sling TV probably solves that. Don't have a cable box? Doesn't matter. Dislike your cable company? You're not dealing with them.
TV is still cool. Your cable company probably isn't, though. Sling TV is TV, but it isn't your cable company. This is the intersection of streaming and TV, which is precisely why you want it. You sacrifice nothing — nothing — and get the things you may have given up when making the decision to cut the cord, or forgo that cable TV package from the cable company. There are no funny new devices, and you can cancel or sign up at your leisure.
Sling TV will be available January 27 (tomorrow) to those who have pre-registered on their website.