Slimline-sub is discretely deep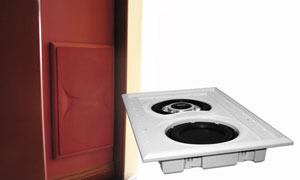 With a name like Earthquake Sound you better sodding well produce some products with booty-shaking bass else you'll lose all possible credibility.  But rather than taking the easy way out – slapping a couple of deep speakers in a carpet-covered box and saying "cop a load of that" – ES have set themselves a further challenge: design a subwoofer that can fit into a narrow drywall cavity.  What they've come up with is Thor, just 3.75-inches deep but capable of lows down to 20Hz.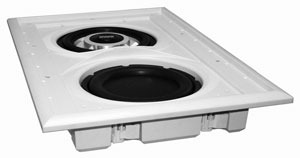 Of course, while one person might appreciate frequency range and cone technology (20 to 160Hz and Neodymium magnets, incidentally), another wants the grumbling beastie to blend in as much as possible.  That's why Earthquake Sound are including two speaker grills with Thor; one made out of perforated metal and paintable, the other a custom fabric cover. 
It has a MRSP of $999