SlashGear welcomes Michael Gartenberg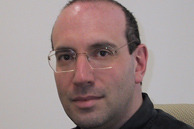 We've a new voice here at SlashGear, and one we think will bring a fresh and different perspective to our discussion on technology and consumer electronics.  Michael Gartenberg is a well known journalist and analyst, currently VP of strategy and analysis at Interpret LLC, and now adding a weekly column for SlashGear to his credits.
Michael has previously worked with Jupiter Research, Gartner Inc. and Microsoft, but here he'll be offering a topical and outspoken opinion on the biggest news in tech.  In the first of his weekly columns, he discusses Google's new Chrome OS and how after just a day in the public eye it's already being labeled a "Windows killer".
The SlashGear team are very excited to have Michael on board, and we hope you'll enjoy his editorials.  Remember, we want to hear your voice too, so whether you agree with what he – or any of the SlashGear team – is saying, or feel differently, sign up for a free comment account and make yourself heard!
You can follow Michael Gartenberg through his Twitter account, as well as find all the news from SlashGear at our official Twitter feed.