Slashgear to cover the Gates vs. Jobs showdown at D5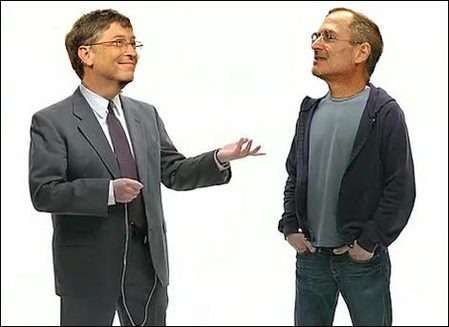 Back in February we told you that Bill Gates and Steve Jobs will be sharing the stage at this year's D5 hosted by the Wall Street Journal. Well that time is nearly upon us, and we'll be bringing your firsthand coverage of the whole show.
Our very own Vincent Nguyen has been invited to attend the show, and frankly, I'm jealous. Someone has to stay here and pass along all of the news from the show. I doubt that we'll see any big announcements at the show, though it would be pretty funny if Steve upstaged Bill by announcing the release date for the iPhone. I wouldn't hold my breath for that one though.
Check back with us on Wednesday for coverage of the show. If you've got a burning question that you'd like to ask Steve or Bill, let me know and I'll pass it along to Vincent. If you're wondering what some of the other people in the tech world want to ask, check out the video below.
Steve Jobs and Bill Gates face off at All Things D5 Conference on May 30, 2007 [via MYiPhone]