SlashGear Review - VisionTek Radeon HD 3870 X2 Overclocked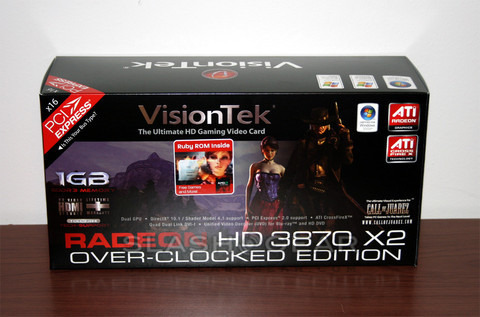 I was impressed when I had a chance to check out VisionTek's Radeon HD 3870, as it really performed quite well. Now I've gotten ahold of its big brother, the Radeon HD 3870 X2. This card also comes from VisionTek, and is the Overclocked Edition, which promises to get a little extra power over the stock version.
Since this card is essentially two GPUs built onto one card, we get a total of 4 DVI inputs, which I have been taking full advantage of. I'm really not sure if I can ever go back down to just 2 monitors per PC. Of course when it's time to game, I turn on CrossFire, which only allows me to use two monitors (most games only utilize on monitor anyway, so it really doesn't matter).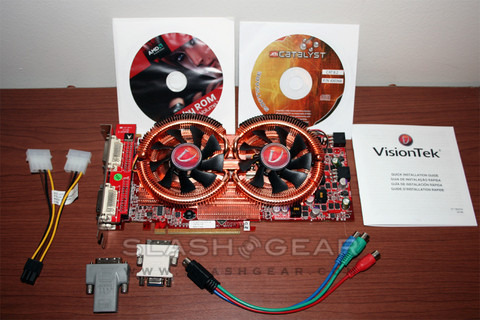 The card comes with the usual adapters, a pair of CDs and a small manual. I really like the look of the card itself, though when it's stuck inside your PC, you really aren't going to be looking at it very much.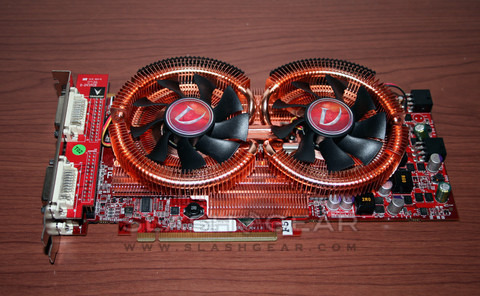 Not much has changed on our gaming rig since the we tested the original 3870, but for those curious, here are the full specs of our test machine.
CPU: Intel Core 2 Duo E8400 3.0GHzCooler: CoolIT PUREOS: Windows Vista UltimateMobo: Gigabyte GA-P35-DS3LRAM: Corsair Dominator 2GB TWIN2X2408-8500C5DFHDD: Western Digital Caviar SE 160GB SATACase: Ultra m998 Mid-Tower
For our benchmarks I've chosen to run Crysis and World in Conflict, as they seem to push even the latest graphics cards to their limit. You can also see how the card stacks up to the single-GPU version.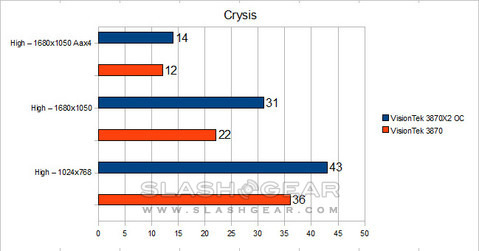 I was hoping for a little more of a gain on Crysis, but I was definitely happy to be able to finally play the game on High at my screen's full 1680x1050 resolution. You have to sacrifice Anti-Aliasing, but 31fps is definitely playable.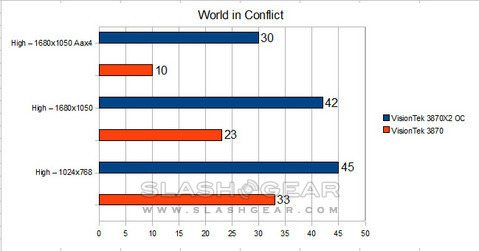 I was seriously impressed with how the card handled World in Conflict. The bas 3870 card was only able to really play the game at the lowest resolution while still keeping the graphics set to high. The X2 OC really shined, especially at max resolution with AA 4x enabled.
Of course no review would be complete without a look at the 3dMark06 results. There really aren't any surprises here, as most of the results are just a little over double what the single 3870 card scored.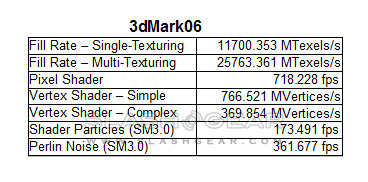 The card did well, making Crysis and World in Conflict seem very playable even at high resolutions. Of course you'll pay extra for the speed increase. You're looking at about $400, which is a little more than what you'd pay for two single 3870 cards. The benefit here is that you only need a single PCI-e slot, and the card comes overclocked from the factory.
I give the VisionTek Radeon HD 3870 X2 Overclocked four out of five gears
[rating: 4]