SlashGear Review: T-Mobile's Samsung T539 Beat cellphone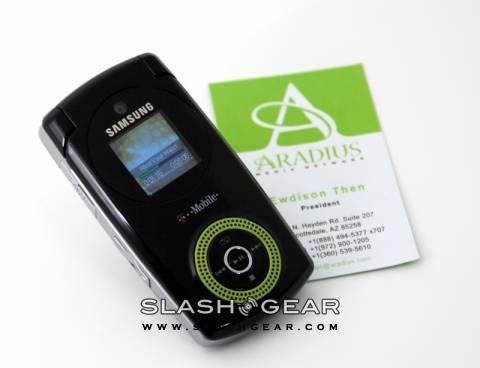 You can tell a lot from a name. Call a car a "Stag" and it has far butcher connotations than if you named it "Primrose"; christen your new laptop "Brick" and don't be surprised that urban warriors pick the rival "Feather" instead. So Samsung are being pretty upfront when they brand their latest cellphone 'Beat' (well, unless you hear rather than see the name, whereupon you might think it was actually a purple vegetable) – this is every bit as much a music player as it is a mobile phone.
In fact looking it it for the first time, you could be excused for not realising it's a phone at all: the prominentl green-rimmed music controls are reminiscent of, well, the PMP market leader, while the clamshell hinge is masked by the gloss black plastic casing.
Convergence tech has a habit of leaving both stones unturned in the pursuit of multiple goals, however, so we were interested to see whether Samsung had given the Beat ample strengths in both functions. First impressions are decent, if not especially inspiring; the 3.5 x 1.8 x 0.7-inch body feels very light, and the plastic reasonably solid. The hinge appears to be resilient, though the obvious trade-off is some degree of bulkiness compared to, say, the MOTORAZR. That eye-catching front circle is in fact a speaker ring with music transport controls clustered inside; above it lives a relatively small full-colour LCD display which shows status information when in standby mode and track details when playing music.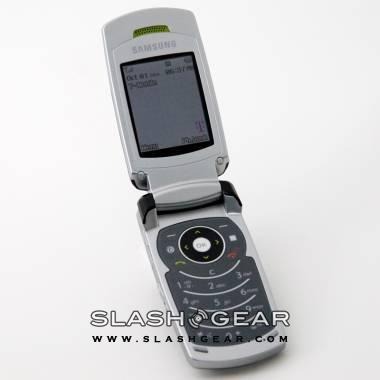 Inside, things all get a little more sober; the keypad might be a zero-profile slice of fancy borrowed from the RAZR camp, but the general appearance is of a Samsung model a couple of generations back. The Beat's internal display, although larger than that on the outside, is similarly low-resolution and compares less than favourably to other mid-range handsets. Samsung go some way to improving matters with a sensible array of controls; a Hold button on the side of the handset either locks the external D-pad or flips between track listings and status on the small display, while a user-programmable shortcut key inside allows a degree of flexibility other phones deny.
As a music player, then, the Beat is fairly featured. Storage is by virtue of microSD card, with a 1GB example in the box and up to 2GB cards supported; meanwhile, the player itself has the usual bevy of repeat, shuffle and preset equaliser settings, as well as a 3D Music mode. The latter two features are well worth playing with, as sound from the external speaker – although loud – is reminiscent of a cheap radio.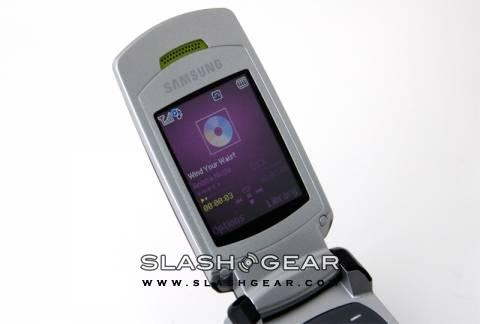 Far better, then, to use headphones, and here Samsung have done the honourable thing and made provision both for wired (with a 3.5mm adaptor bundled with the phone) and wireless (courtesy of A2DP Bluetooth) cans. I'd have given them extra credit if they'd included a Bluetooth set in the box, but sadly at this price point you'll have to make do with wired.
One bonus for staying old-skool and wired-up is that you can continue to listen to music while simultaneously texting or using the Beat's web browser; choose wireless headphones and the handset can't keep up with any sort of multi-tasking. And you'd be missing out, to be frank, since Samsung have been generous with SMS and MMS support as well as an IM client that'll see you chatting on AIM, ICQ, Windows Live and Yahoo! messaging. The EDGE connection is plenty fast enough for this and a little browsing (although the browser itself pales in comparison to Nokia's S60 version, and don't even think of mentioning the iPhone!) and also caters for an online phonebook backup and synchronisation service courtesy of My.T-Mobile.com and their Outlook compatibility. It's great to see easy contacts population in a handset that doesn't claim to be any sort of smartphone.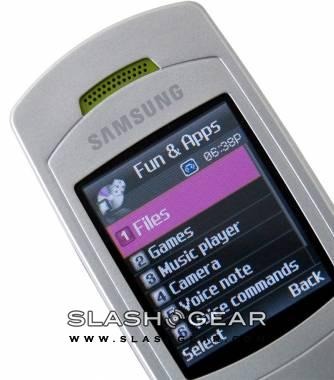 As a cellphone, then, reception in our decent coverage area proved fair, and while the GUI is unlikely to win awards for its design it's reasonably straightforward to use. The 1.3-megapixel camera, capable of both still and video capture, produces surprisingly decent images despite lacking an LED flash or autofocus. As for further functionality, the handy voice note recorder proved convenient and was easy to control via the front panel keys, while compatibility with T-Mobile's MyFaves and the carrier's content and games download portal ensure you're fully able to spend plenty more money with them. Early tests suggest a 5+hr talktime.
At $99.99 with the predictable 2-year contract, the Beat would make for a solid, dependable, if vaguely uninspiring choice. But then not everybody is looking for an iPhone, a function packed Nokia smartphone or something sporting a full QWERTY keyboard and thirty seconds of battery life. As a straightforward option which is relatively easy on the eye and brings functionality like stereo Bluetooth and handy dedicated media controls to a very reasonable price-point, it'd be churlish to dismiss the Samsung Beat too quickly, and we'd certainly encourage you to take a look yourself.