SlashGear Review - Rock Band Wii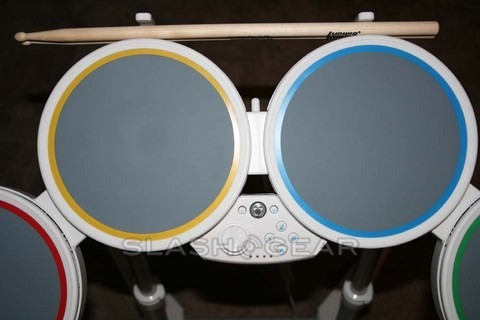 So I've had Rock Band Wii for a day or so now, and I thought I should be nice and share my thoughts with all of you, just in case you had any doubts or worries before it hits shelves next week. Hit the jump for my full review.
This isn't going to be nearly as lengthy as my typical reviews, because to be honest, it's Rock Band. The game has been out for a while, and as far as gameplay goes, it's really the same. There are differences to be noted, such as the lack of character creation and online play, but we've known about this for some time also.
First thing I'd really like to note here for those that survied the Guitar Hero III disaster on the Wii, it doesn't output sound in mono. That's right, this game (much like every other game in the world) supports stereo sound! Unfortunately there's no Dolby support, so no surround sound for you.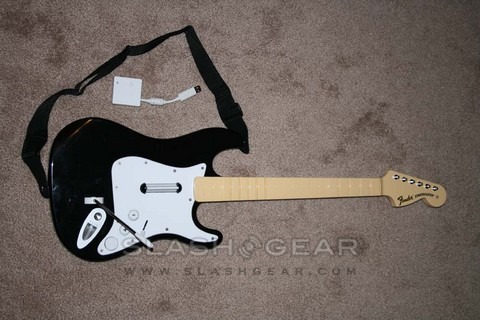 Hooking up the instruments is pretty simple, just hook up your hub and plug in your drums and mic. As for the guitars, you'll need to plug in your wireless dongle(s). Press the little button on the dongle and then then one on your guitar and you're good to go.
All you need to do now is pick your band name and you're ready to rock. The game from here on out is pretty much the same. You don't collect money for new clothes and stuff, for obvious reasons. You do have a few extra tracks that weren't on the original set list for the 360 and PS3, it's not much, but a few extra tracks are always nice.
So how do the instruments perform? The mic is identical to my 360 version, and the drums are almost the same. The only real difference is two bottom bars connecting the feet together are plastic, and seem to almost hug the ground. This seems to make the kit a little more steady, but otherwise they play just as well as my original set.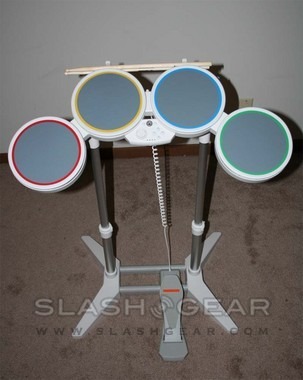 I haven't played the PS3 version of the game much, so I can't say that I'm quite as familiar with the wireless guitars. However, I can definitely say that the ones included in the Wii bundle are awesome. The wireless reaches at least 25 feet without any signal loss or missed notes (I'd have tested from a greater distance, but I ran out of room). The strum and whammy bars felt good, and the buttons were all responsive. I had no issues activating Overdrive by tilting the neck, either.
Overall, I'm pleased with the port. It really does suck that they weren't able to get any online features or DLC into the game. I don't really miss the character creation too much, but then again I haven't added new clothes to my 360 characters since I initially created them. I give Rock Band for the Wii a solid 4 out of 5 gears.
[rating: 4]