SlashGear Review: Gateway MT6839b Laptop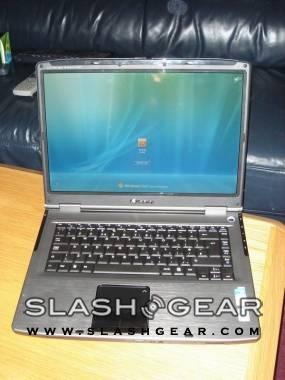 How long will it be until the desktop PC is, for mainstream customers at least, pronounced dead? It's been several years since sales of laptops exceeded their table-bound brethren, and ever since the numbers have increased and the places you can find notebooks for sale have grown more and more unusual.
Gateway are one manufacturer who have partly stepped outside of the usual retail channels with their range. Their UK arm were good enough to send me an MT6839b – a model currently sold in this country's leading supermarket retailer Tesco – but equivalents of which can be found in other channels too. With a MRSP of £599 ($1,220 at today's awful exchange rate) it's a good example of an entry-point machine for families and students.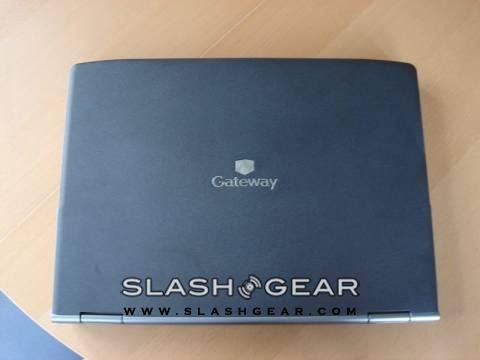 With a 15.4-inch WXGA widescreen display, the Gateway is never going to be mistaken for an ultra-compact, but the extra space leaves room for some decent specs. A single-core Intel T5300 CPU does its thing with a healthy 2GB of RAM, a/b/g Centrino wireless, a fulsome 160GB hard-drive and DVD-rewriter. Bluetooth 2.0, a 4-in-1 memory card reader and six-cell 2.4mAH battery pack round out the package.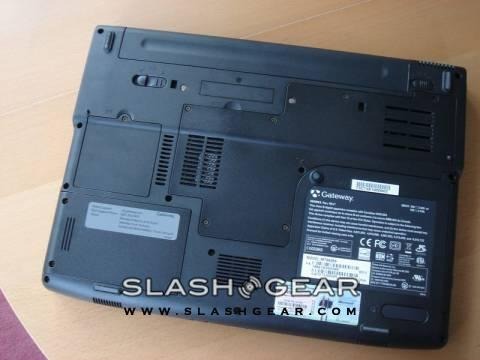 Gateway ship the MT6839b with Windows Vista Premium, and I was pleased to see DVDs included just in case you should need to reinstall. There's also a hidden OS partition from which you can repair or completely reload Vista and return the system to out-of-the-box status. Gateway also include the inevitable rarely-used modem cable and some pretty comprehensive paper documentation; a pleasant surprise when most new products rely solely on electronic manuals.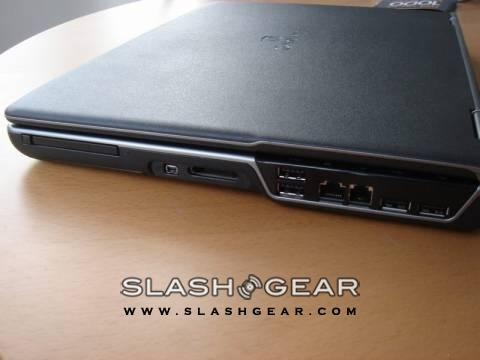 In terms of physical build, the laptop has four USB ports on the right-hand side, together with ethernet and modem ports, the card-reader, a FireWire socket and PCMCIA slot. The opposite side has merely the optical drive, a fan grille and an S-Video out socket, while the rear makes do with VGA and power sockets. At the front of the machine there are standard headphone and microphone sockets, and two LEDs to indicate power and charging status.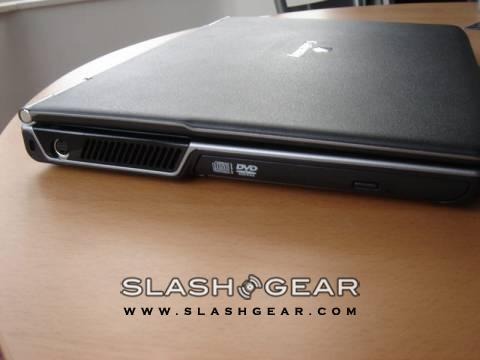 I would've liked to have seen Gateway include some sort of case with the MT6839b. Generally it feels solid, aside from a worrying degree of flex in the lid. Perhaps they view it as a desktop-replacement with little likelihood of travelling, but were it my computer I'd be wary of how I transported it. The rest of the build is far more reassuring, and I particularly liked the panel of real brushed metal running across the palm-rest. It's a little-considered touch point but one that lends weight to that perception of quality.
Booting up is as fast as you'd expect from a modern machine; Vista's desktop appeared in under a minute, while a glance at the system tray didn't show up too much pre-installed crapware. The inevitable trial anti-virus software – in this case McAfee's security suite good for 90-days testing – is there, and it proceeded to pester me to register periodically despite my telling it to leave me alone. Unlike some, I'm not entirely against security software being loaded onto a new machine by the manufacturer; my experience of amateur tech-support for family and friends has taught me that most people think entertainment and play first, security a distant second, and with research showing how quickly an unsecured machine is targeted on connecting to the internet I'd rather a new machine wasn't immediately corralled into a botnet.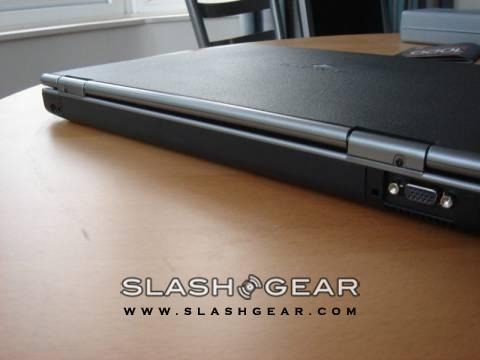 What I'd like to see, however, is an easy way to get rid of it – they put icons to buy software on the desktop, why not icons to remove it? – should you decide not to stump up the full fee and instead go the freeware route. Still, this is by no means the sole preserve of Gateway, and so I wouldn't criticise them unduly.
Other pre-installs include Microsoft Works, a trial of Word 2007, and of course Windows Media Center that comes included with certain versions of Vista. From the perspective of the new home user, it would've been handy to have some sort of interactive demonstration of the MT6839b's features that automatically ran on first boot. There's a printed quick-start guide but most people won't turn to the manuals until something beeps aggressively and scares them.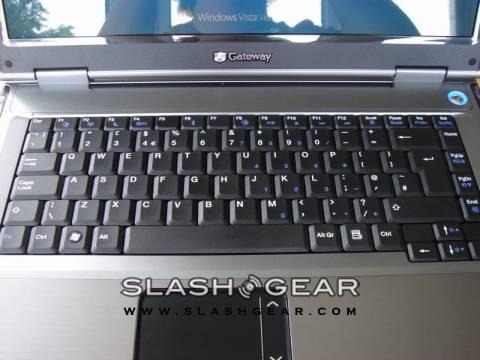 In use, the MT6839b is fast and quiet. The fan kicked in periodically but was never so loud as to be distracting, and while the notebook did become hot underneath after sustained use it was never to the point of causing discomfort should you be using it on your lap. The keyboard, pleasantly spaced, seemed perfectly average to me, but on going back to a Dell Inspiron 6000 I realised how much better the Gateway's feel and responsiveness was; the Inspiron had a brittle, plastic ring to it that the MT6839b lacked. We're not talking ThinkPad levels, of course, but enough to make prolonged typing manageable. As for the trackpad, well, you'll know if you like them or hate them, but my main complaint was the shiny plastic buttons beneath it; they too readily picked up finger-grease (or nose-grease if you're one of those people who like to use their nose to right-click), and sometimes I would try to click the slightly recessed groove at the very base which in actual fact has lights for wireless and hard-drive activity.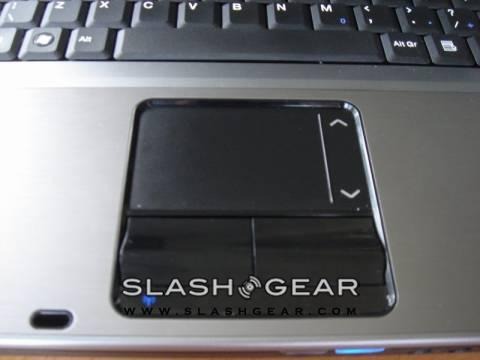 It would be remiss of me if I failed to mention the few minor issues I had with the machine; one seemingly down to the preset power settings and the other a byproduct of Vista. The first few nights, once I'd finished using the Gateway, I did as I normally would do and closed the lid to put it into standby. On coming back in the morning, the machine was dead – the battery had completely drained. Some experimental tweaking of the power settings and the problem was resolved, but I can envisage less confident users believing their laptop to be broken.
The second arose by virtue of Vista's handling of network-attached storage (NAS) and security protocols. I use a LaCie Ethernet Disk mini to store media and installation files and share them across my home network; the MT6839b was unable to connect to this, thanks to Microsoft choosing to make a security default that many existing NAS don't support. Again, not Gateway's fault, but something to be aware of if you're upgrading to a new machine.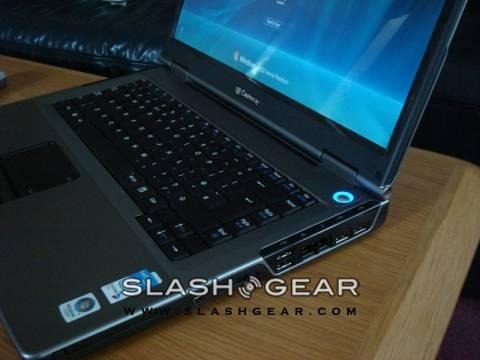 Lest I sound too critical of the MT6839b, let me be clear – once the power management issue was corrected I was never disappointed by the notebook. Battery life was a reasonable 2.5 – 3hrs on average, while the glossy screen showed a surprising depth of colour and contrast. Video playback – either through WMP or the Media Center interface – was clean and stutter-free, although the lack of HDMI output means you're limited to S-Video to connect up your TV. Gateway also don't supply a TV tuner of any sort, so you can't make the most of Media Center's timeshifting and recording functionality.
Would I recommend the Gateway MT6839b? I'd say it ought certainly be on your shortlist of notebooks to consider. Perhaps the keen traveller should look elsewhere – or invest in an extra-solid case – but for everyone else its healthy serving of RAM and storage together with that satisfying screen make it a solid and capable performer.
Thanks to Gateway UK for the loan of the MT6839b