SlashGear Review: Fujitsu-Siemens' ultra-portable P1610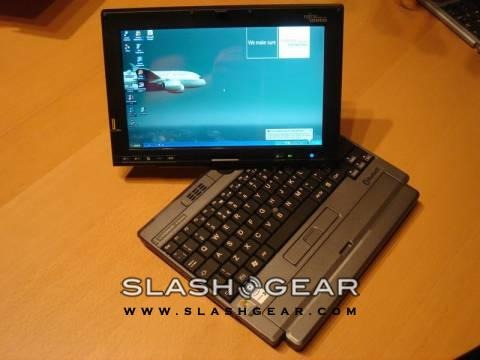 The ultraportable MacBook some were hoping for didn't arrive at WWDC, so it seems a good time to look at options for the mobile user who prizes portability above all else. Fujitsu Siemens' P1610, despite its age – it was announced in November last year – remains one of the most coveted mini notebooks; the size of a hardback book with a convertible touch-screen, I dropped one in my bag to see just how functional the 2.2lb device can be.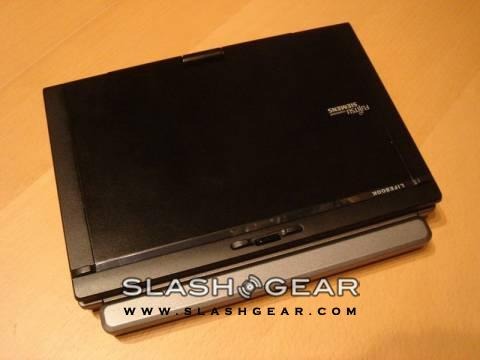 Road-warriors are well catered for when it comes to kitting out the P1610. On top of the basic Intel Core Solo low-voltage 1.2GHz processor there's a choice of 512MB or 1GB of RAM, hard-drives from 30GB upward, standard a/b/g WiFi and optional Bluetooth, a HSDPA cellular upgrade and even a 32GB solid-state hard-drive. Sadly my review unit came without either of the latter two options, although the PCMCIA slot makes adding your own mobile broadband card a possibility.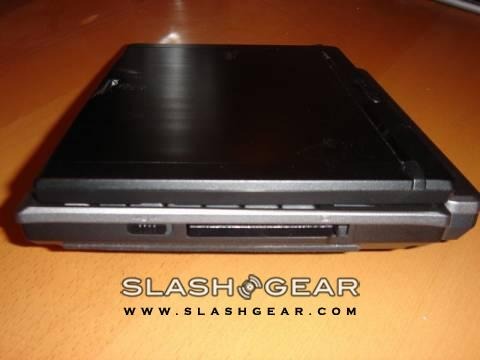 A single screen choice is available across the board, being an 8.9-inch WXGA touch-enabled panel using indoor/outdoor technology. It's no hardship, being crisp and clear, although it requires greater pressure (either with your finger or the included stylus) than the Samsung Q1 UMPC's screen. Some prefer that, but I found that maintaining the continuous pressure required to, say, drag and drop an icon or write in cursive ended up in a precarious balance between an interrupted movement and fearing damaging the screen through pressing too hard. Press-and-hold (which in a passive-screened Tablet replicates a right-click) met with dubious success, intermittently – and frustratingly – releasing prematurely. Nonetheless, after calibration general tapping and link-surfing was eminently possible with a fingertip, and the screen proved resilient to vectoring (where your hand touches the screen when writing and registers as a false touch).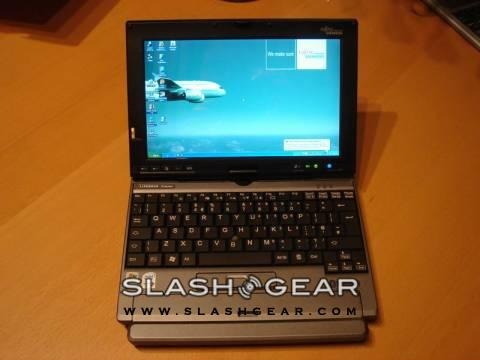 It's hard to describe the first surprise when unpacking the P1610; it arrives in a standard Fujitsu Siemens laptop box, suspended in a frame of expanded foam, and on first pulling it out the scale of it is amazing. I can't help but wish they'd made the whole experience a little more special, however; taking a leaf out of Samsung's UMPC packaging would go some way to further justify the P1610's premium pricetag. It feels solid – though not unduly heavy – in the hand, aided by some suede-effect patches on the base which make long-term carrying comfortable (and reduces the risk of scratching whatever surface you eventually set it down on).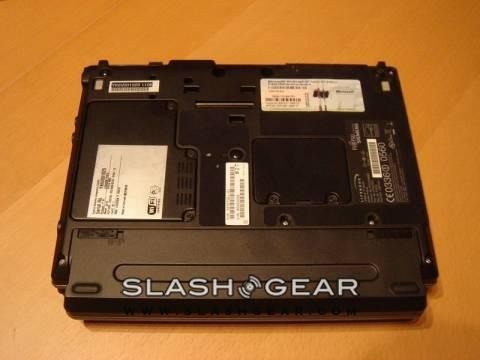 With the whole device measuring just 9.1 x 6.6 x 1.5-inches, the keyboard is obviously smaller than on most laptops. Mincing no words, this really isn't something you'd want to type your first novel on; however it's perfectly usable for emails and casual typing, with the keys feeling firm and having surprisingly decent travel. The trackpoint nubbin is stiff, however, but given the touchscreen it's easy to avoid should that not be to your liking. Of course the two USB ports make hooking up a full-sized keyboard and mouse an easy possibility for desktop use, as does the VGA port which can drive a monitor at up to 1600 x 1200 (or 1280 x 1024 if you want to use internal and external displays simultaneously). Fujitsu make a port replicator with a VGA port, pass-through for the gigabit ethernet connection, a rather miserly two further USB ports and DC input, and although I didn't have this to review it would obviously make for a straightforward office setup.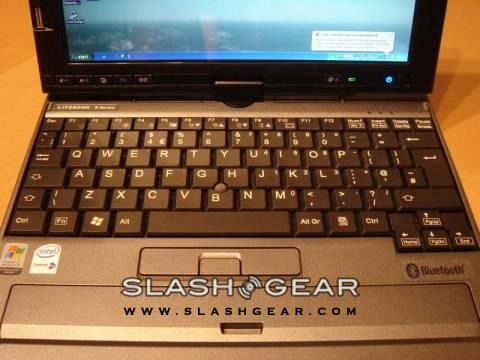 Booting up is quick, the U1400 processor working hard and kicking out a surprising amount of heat; the P1610's fan is rarely silent. Out of the box the system as a whole was pleasantly free of junk software; Google Desktop and Toolbar were present, but not installed, as was trial antivirus software. It was easy to delete the installation files and use my own security package. Less pleasant was the initial experience of Bluetooth – I knew it was meant to be there, as the box referred to it, but the software wasn't installed. Whether this was a one-off problem on a re-imaged review machine or how they're supplied generally, I'm not sure. Getting it set up was a matter of running the Bluetooth program for the first time from the Start Menu, but whether every user would know to do that would be something only Fujitsu's support staff could tell us.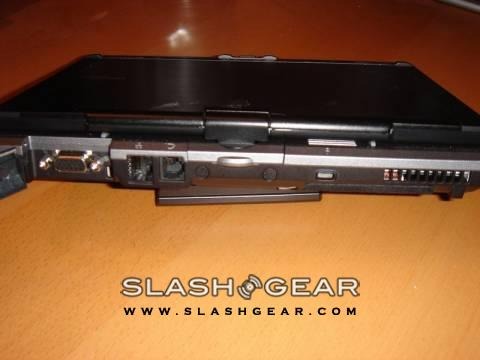 Windows Vista is now an option, but Fujitsu provided XP Tablet Edition; no great hardship, as it's generally considered to be a decent balance of pen-enabled features without some of the slowdown other Tablet users have experienced with the newer OS. Obviously that means all normal Windows software will run, and the P1610 handled Office, internet browsing and email without trouble. The integrated Intel graphics won't see you playing visual-heavy games or doing heavyweight (or even medium-weight) video editing, but given the size of the screen you'd probably go cross-eyed even if you could. It's certainly capable enough for the P1610's likely use.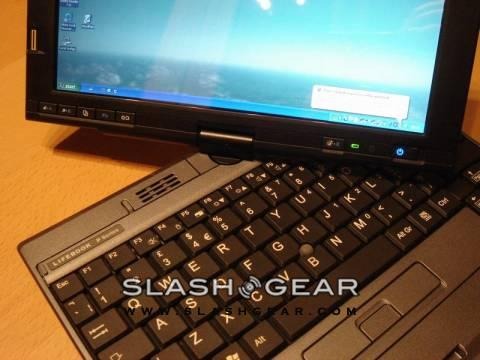 In notebook configuration, then, the Fujitsu is decent if dinky; what I found most enjoyable, however, was flipping the screen round on itself and holding the unit in portrait mode. The screen rotates automatically, and while the latch is a curious stub of a thing which you press through to slot into a recess on the front edge of the keyboard, rather than a proper hook, the hinge is stiff enough to prevent most accidental movement. Browsing the internet in this orientation is a joy, and I happily drained the battery on several occasions either curled up on the couch or in bed. WiFi range is impressive and the P1610 grips tenaciously to a signal.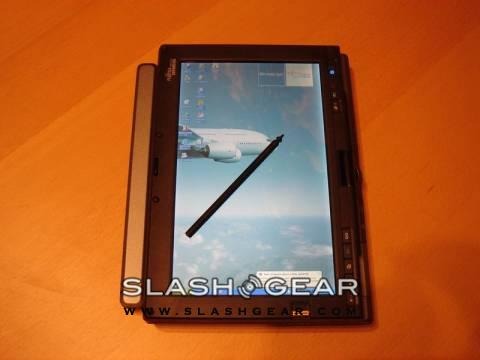 The P1610 battery forms the front edge of the unit, and is available in 3 or 6-cell varieties. The former is rated for up to 3.25hrs while the latter, which is what I was supplied with, promises "up to" 7hrs; on a full charge and with reasonable use I found it lasted more like 4-5hrs, and given careful use of the standby and hibernate modes it could be eked out to perform for a working day. The ink-enabled Microsoft Journal, supplied with the Tablet version of XP, was sufficient to take handwritten notes in meetings, with the P1610 discrete enough to sit in my lap and not demand too much attention. A much under-appreciated feature is being able to search for text and have it bring up both type and handwriting, and were I lucky enough to have kept the Fujitsu (or sneaky enough to steal it) I could see this being a handy way to refer back to those mid-meeting bright ideas.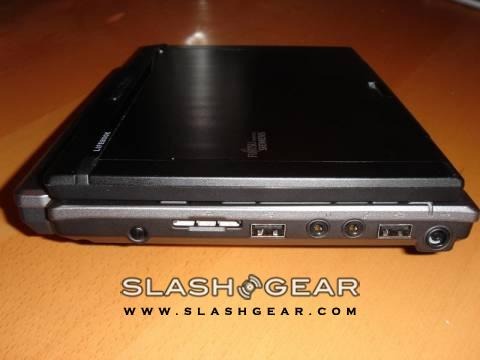 In case you can't tell, I was much enamoured with the P1610. Yes, it doesn't bring the newest or fastest processor to the party, but that no doubt adds to its battery longevity. Some might criticise the absence of an optical drive, but given it's unlikely to be your sole computer the occasional sharing of a drive over your network will suffice for anything still demanding CDs or DVDs. It would be nice to see a built in webcam for video messaging (although I see that Fujitsu US are, as of writing, offering a free Creative webcam if you buy online), and given the obvious focus on portability a case of some sort – even just a padded slip-case – really should've been supplied as standard. The fingerprint biometrics also proved troublesome; perhaps I've got malfunctioning digits, but I had great trouble registering them for log-on and password management, and no matter what I tried I couldn't get it to function as a scroll control as it's meant to. Looking elsewhere I see that others have been luckier in their experience, so maybe I really do have rubbish fingers! Fujitsu use the established Trusted Platform Module system, so assuming you can get it all to work your data should be safe.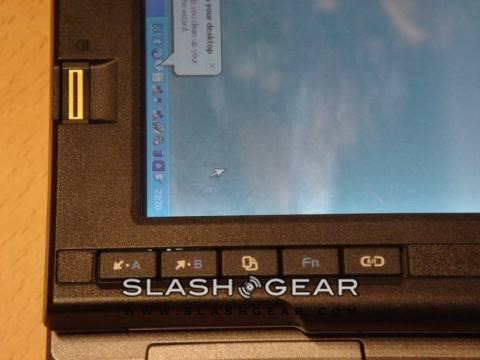 As supplied – with a full 1GB of RAM and a 60GB hard-drive – the P1610 would cost $2,224; drop that down to 512MB of RAM and you save a not insubstantial $400, meaning the roughly $200 the 1GB chip would cost you from Kingston, say, would make for a far cheaper upgrade. The range starts at $1,599 but the lack of Bluetooth and measly 30GB hard-drive undercuts the value. In all, then, it's an expensive notebook: as tested almost twice the cost of the Samsung Q1 Ultra and more costly (and under-specified) than its bigger brother the LifeBook T4220. If you've the money, though, you're unlikely to be disappointed; it's a premium device, more functional than the Q1 Ultra thanks to the almost-normal keyboard and so eminently portable you find yourself carrying it to places you'd normally be PC-less. Throw in cellular broadband and the P1610 makes a very strong case for being the ideal road-warrior's machine.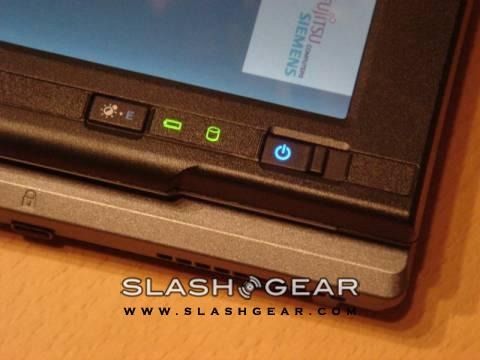 Many thanks to Fujitsu-Siemens UK for the loan of the P1610