SlashGear iOS App of the Week: World of Goo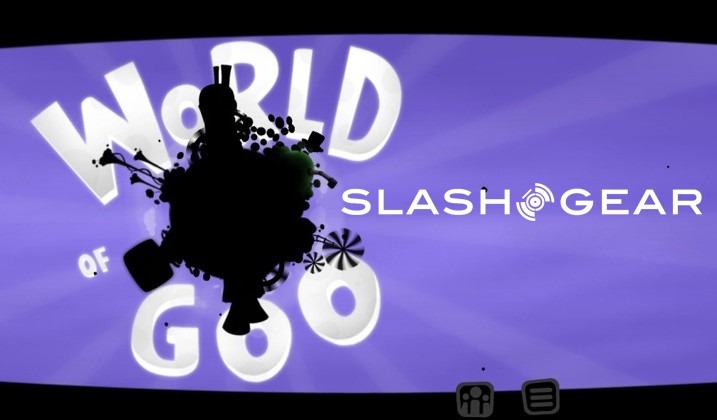 Indie games are independent video games made by developers without the financial support of a big video game publisher. These types of games are usually only available for online access, although recently one of the world's best indie games is now available for the iPhone. The newly released iOS version of World of Goo is easily one of my favorite new games on the App Store. World of Goo was created by two former Electronic Arts employees, who started an independent gaming developer, 2D boy.
World of Goo is a physics-based puzzle game in which the main goal is to use balls of goo to create self-supporting structures that can also support other types of goo. There are four individual chapters of the game, as well as an additional chapter that is the epilogue. In addition to these five chapters, there is also the World of Goo Corporation. In the Corporation you can create structures with the balls of excess goo you have collected throughout the other chapters. You can also compete with other players around the world to see who can make the tallest tower.
The game's main objective is to get the required number of goo balls to the exit pipe. To get the goo balls from one place to another, you must use other balls to create bridges, towers and other structures of goo as a means of transportation. It is important to note that various goo balls cannot be reclaimed once they have been played. With that being said, there are a few different colored goo balls that can be played, reclaimed and then played again, which can often be useful in creating longer trains of goo. Each ball of goo has special abilities and it is important to learn and take note of these as you stumble upon them.
World of Goo [download]
World of Goo HD [download]
You will encounter signs throughout the levels from the Sign Painter with various, obscure hints. Sometime the hints can play a huge role in completing the level, but sometimes they may totally throw you off track. It's up to you to decipher these messages and decide which ones to follow and which ones to ignore.
Since World of Goo is an indie game, it may appeal to a different genre of gamer. In addition, the familiar look of a Tim Burton-like user interface may also broaden the game's appeal. With the addition of this game the App Store has expanded its horizons. Overall, this game is going to be a huge success for 2D Boy as well as the App Store.