SlashGear at CeBIT 2007: Navigon's very own navigation system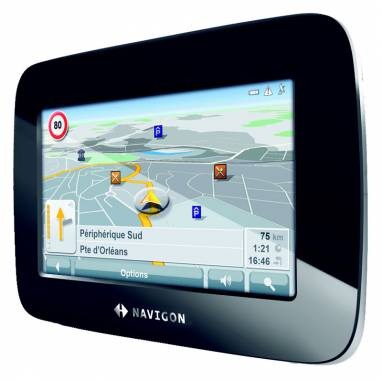 Navigon has now made its first steps into making its own hardware: the 7100 and 5100 navigation system at CeBIT 2007. The highlight features of the 7100 includes Bluetooth hands-free system, 4.3-inch color display in an easy-to-view 16:9 widescreen format, new "Real View" function, exclusive lane assistance, free traffic jam reports, voice input, and PIN code security function. The Navigon 5100 is very similar the 7100 with the exception of the 3.5-inch color display.
So what's the big deal about this new feature called "Reality View"? If you have ever used a navigational system, you may have noticed how confusing it is to read traffic conditions. This view mode displays signposts realistically, giving you the information needed to move into the correct lane easily. As mentioned above, the 16:9 color display intelligently formats the Navigon 7100 with 2D or 3D map display selection.
Red dot design honored the Navigon 7100 as "best of the best 2007". Out of 2,548 submissions, it is one of only 10 that got the exclusive award for innovative functionality, the ultimate in quality and ease of handling, as well as a sweet looking design and intelligent orientation aid.
The Navigon 7100 (regional maps) and 7100 (map of Europe) will be available this summer for 450 euros and at 500 euros respectively. The Navigon 5100 and 5110 will also be available at 350 euros and at 400 euros respectively. I don't have a definite release date for US yet, but will do my best to track it down.
Videos from the press conference will be up soon, so check back. Check out the CeBIT 2007 image gallery for more images of the 7100 and 5100.