Slash 3D LCD-SLA 3D printer uses resin to make stuff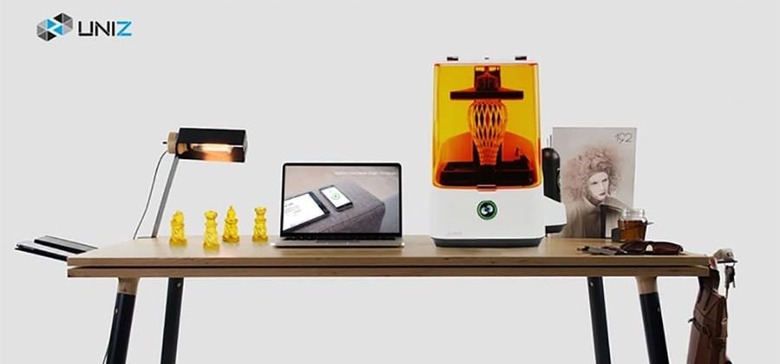 If you need or want a high-resolution 3D printer that can sit on your desktop, you better have some deep pockets because those printers often go for thousands of dollars. The cheapest of the sort is the MakerBot Replicator2 and it sells for $1,999. A new high-resolution 3D printer has turned up on Kickstarter called the Uniz Slash and it has better resolution at half the cost of that MakerBot and as much as a fifth of the cost of some others on the market.
Uniz Slash 3D printer uses LCD-SLA technology with cooling to print larger objects. Its XY Resolution is 2560 x 1600. One tidbit that the Slash offers that other printers of the sort don't is a customizable Z resolution profile. Slash also happens to be one of the fastest 3D printers on the market with a print speed of 1000cc/hr on some types of jobs.
The folks behind the printer say that the speed is 1 second per 0.1mm on hollow or thin wall and 8 sec per 0.1mm if solid structures are being printed. Print volume is 7.5 x 4.8 x 7.8. All of the features of the Slash printer sound really cool, but perhaps the best is the price with the maker selling the printer on Kickstarter for $999 at the outset. Those cheapest versions are all spoken for at this point, but you can still get one for $1199 or more with 500ml of resin.
So far, the project has been backed by 129 people and was seeking $50,000. At the time of writing, the Slash printer had raised over $128,000 with 27 days to go. Estimated delivery for the printers is set for December 2016. Additional resin for the printer will cost $69 per 500cc bottle.
SOURCE: Kickstarter