Slackbot Bot is a robot crafted from a Roomba and tornado siren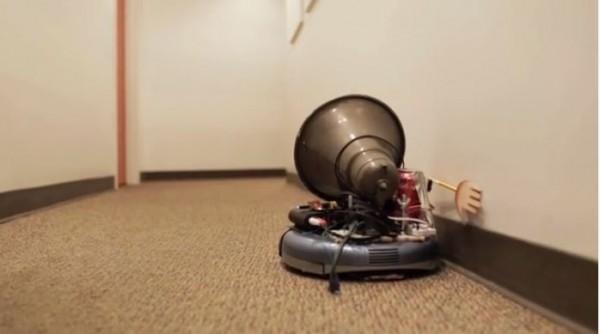 If you've an old Roomba lying around and a desire to tinker, the Redpepper team has demonstrated how far you can take your little robotic vacuum. Using the aforementioned Roomba, as well as a tornado siren, a Raspberry Pi, and a bit of creative ingenuity, they cobbled together the Slackbot Bot, which rolls around following commands like giving someone a high-five and making announcements like "it's taco Tuesday". We've got a video of it checking bathroom occupancy, playing music, and more after the jump.
The Slackbot Bot, as its name suggests, uses Slack to accept commands, which include things like sending it off to give someone a high-five using that little arm on its side, using it to announce something in the office using the tornado siren attached to the top (which can also be used to play music), and more.
Bluetooth beacons aid the robot in navigating around, and it is given that essential human touch via paper eyeballs slapped onto the front of it. It's crude, rough-looking, robotic sounding, listens to Slack commands, and something that would be exceeding fun to have around.
Be sure to watch the video above to fully appreciate the little robot's amusing abilities, then check out some of our past robot coverage in the timeline below, as well as our dedicated Robotics tag portal.
VIA: TechCrunch