Skyscraper 55-story tall rollercoaster coming to Orlando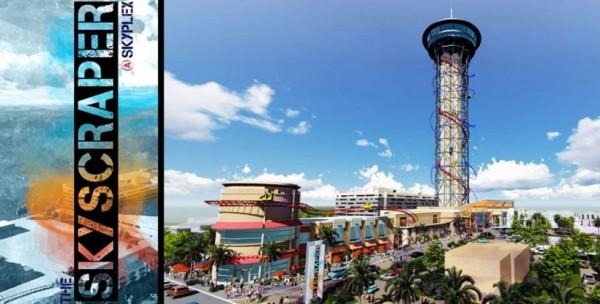 Rollercoaster fans will want to check out a new ride coming to Orlando, Florida laying claim to the world's tallest rollercoaster title. The coaster will be called Skyscraper and will stand 55-stories tall. Skyscraper will be part of a larger entertainment complex called Skyplex that is set to open in 2016. The amusement park will be located on International Drive in Orlando and sits on a 12-acre plot of land.
In addition to the massive rollercoaster, Skyplex will also have restaurants, retail spaces, and a large tower with a restaurant and observation point. When finished, the tower for the roller coaster will be the tallest structure in Florida.
Getting to the top of the rollercoaster will require a 55-story glass elevator ride. Skyscraper is a "Polercoaster" rollercoaster and is the first of the Polercoaster units to be built. It stands 570-feet tall and it wraps around the outside of the large Skyplex tower before looping and spiraling around the smaller Skyplex compound.
The total length for the rollercoaster track is 5,200 feet and the entire ride lasts three minutes. Riders will reach speeds of up to 65 mph. The complex and roller coaster is estimated to cost $200 million to complete with construction beginning in 2015.
SOURCE: Gizmag