Skype launches gift cards just in time for the holidays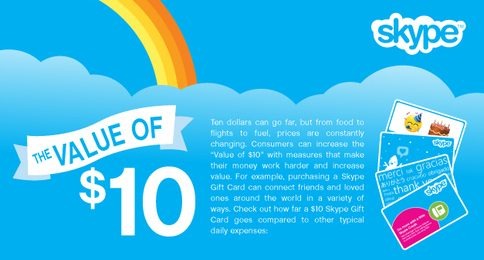 Skype is doing its part this time of year to make it easier for its users to get a hold of their loved ones during the holiday season. Last week, they offered free calling for an entire month, but you only had one day to claim the deal. The next best thing is gift cards, which Skype just launched today.
Skype is offering both digital and physical gift cards that offer $10 or more in credits. These can be used either for the service's VoIP calling or even some Skype WiFi at the airport. If you want a customizable Skype gift card, you'll have to get one online, but if you're looking for a physical gift card, the Microsoft Store, OfficeMax and Target have them available.
While $10 may not sound like a lot, Skype reassures you that $10 will get you plenty of calling time with your favorite people. They even made a quick infographic comparing different things that $10 will buy you compared to calling people over Skype. For instance, $10 will roughly buy you 1.62 cups of beer, according to Skype, but it will also get you a one-month premium subscription to Skype. When they put it that, it certainly sounds like a deal.
For those who live overseas from their family, a Skype gift card can certainly be a great Christmas gift. While Skype-to-Skype calls are free no matter where you're located, calling landlines and mobile phones can cost a few pennies depending on who you're calling, so if a family doesn't have access to a computer, a Skype gift card is great for those who are forced to use a landline or cell phone.