Skype Integration With Outlook.com Rolling Out Globally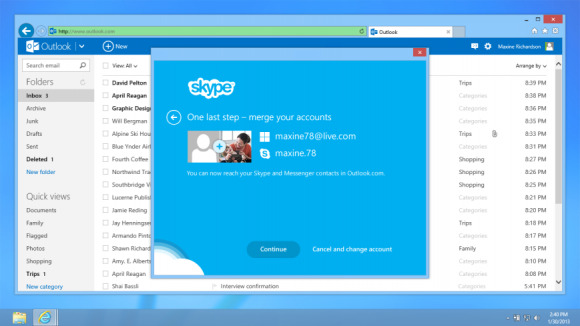 In April, Microsoft made a preview of Skype in Outlook.com available for users located in the UK, with those in the US and Germany getting their own previews a handful of weeks later. It has been a few months, but the feature is now rolling out in full to users located across the globe, bringing with them faster access from within their inbox.
With Skype in Outlook.com, users will be able to access their Skype contacts from within their email account, as well as making voice calls and video calls inside their inbox. As with the Skype application itself, Outlook.com users will also be able to chat with each other via the software's instant messaging feature – also within their email account.
Microsoft says that the feature is rolling out now, so if you're not seeing it yet, it either means it hasn't made it your way yet, or you still need to install the Skype Web plugin. You can get an idea of how the service works by checking out the video below, which gives a rundown of the different features and functionality.
As you may have noticed, the video also mentions a contest, which Microsoft detailed over on TechNet. Those who want to participate will need to create a recipe from a pre-determined list of ingredients, then submit their entry. For each submission, Microsoft says it will donate $10 to Common Threads, a healthy cooking charity.
Said Outlook.com's Group Product Marketing Manager Dawn Martynuik: "Email is an inherently personal thing. So we work hard to make sure that Outlook.com works with the things you already use, such as Facebook, Twitter, Google and now Skype. If you love Skype, you're going to love using Outlook.com for your email and having the ability to video chat with your friends any time."
SOURCE: TechNet