Skype for Windows Phone 8 updates with HD video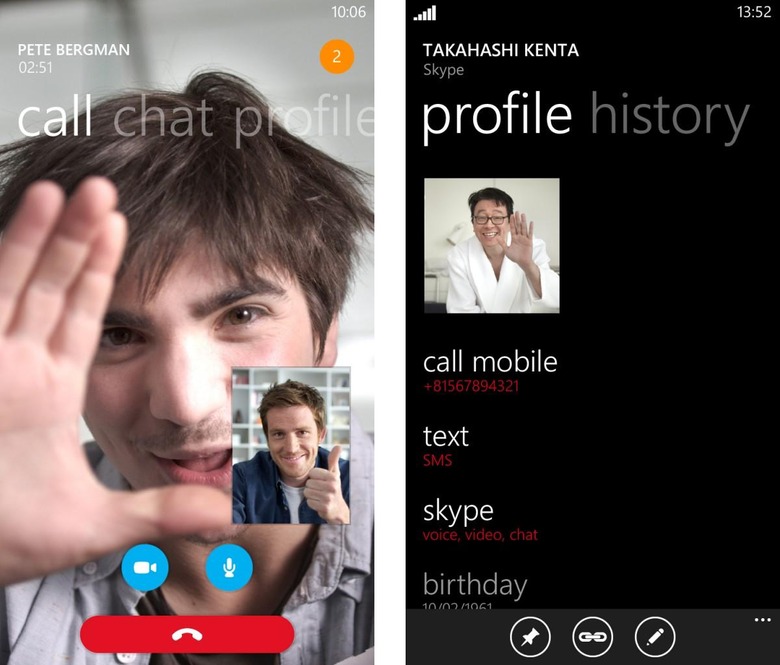 The newly Microsoft-bought Skype video-chat service has received an update for Windows Phone 8. Users will now be able to call their loved ones and stream over high definition video, so make sure your hair looks good and you have your best smile on. The app also received People Hub integration, meaning that all of your Skype contacts will be available in the Windows Phone People Hub.
This marks the first time that Skype has enabled HD video chatting in its smartphone app, and it's compatible with any new Windows Phone 8 device that supports HD video recording, like the Nokia Lumia 920, HTC 8X, and the Samsung Ativ S. On devices that don't support HD video, Skype will automatically use VGA video instead.
The app will also automatically set the video quality based on the speed of your WiFi or data connection, and Skype callers can use either the front-facing or rear-facing cameras, as well as switch between portrait and landscape mode for both cameras. Overall, the addition of HD quality should make calls a lot more pleasant.
The People Hub integration also makes it easier to start a Skype call with someone. All your Skype contacts will automatically be added to the People Hub on your Windows Phone device, that way you can start up a Skype call without having to open up the app in the first place. You can also switch between user accounts for Skype calls.