Skype for Mac gets updated with new features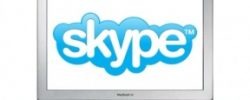 Mac users who like to use Skype frequently will appreciate the new update that landed yesterday. The new update brings Skype to version 5.6 on the Mac. Along with bug fixes, the update brings a couple new features that may be particularly interesting to Mac notebook users. One of the new features is the ability to delete part or all of a conversation in one click.
Skype 5.6 also gains an important and long desired automatic update feature. The Windows version of Skype has been able to perform automatic updates since September of 2011. Automatic updates mean you won't have to fiddle with downloading and applying updates yourself. Skype also gets a new full-screen mode.
Apparently, Mac OS Lion supported the ability for full-screen mode for the app seven months ago, and Skype has just now got around to taking advantage of it. The update also brings a dynamic layout for video calls. The new dynamic layout puts the person you're speaking to the top of the window and gives you the ability to control gain to help eliminate background noise.
[via TechCrunch]