Skype for Android updated to version 4.4, brings redesigned tablet user interface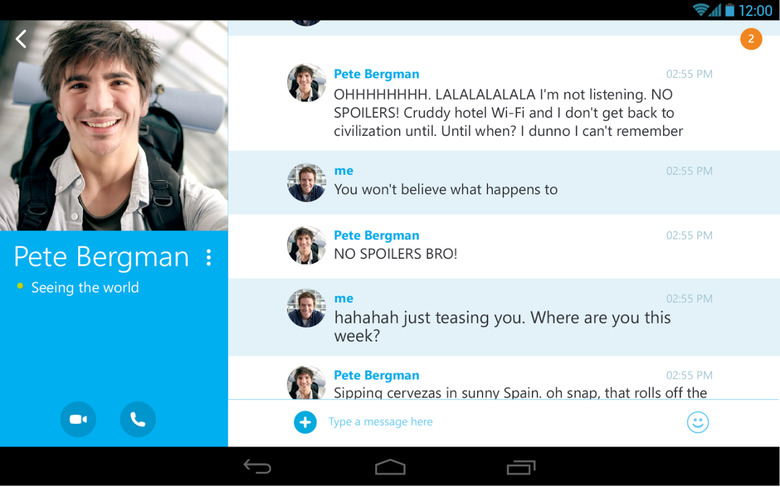 Following the version 4.0 update that rolled out early in July, Skype has rolled out another big update for its Android app, bringing it to version 4.4. With the latest update, Skype for Android brings a redesigned user interface for tablet users, something Skype says is also available for those using its client on the Kindle Fire HD and the Kindle Fire HDX.
The redesign moves conversations front and center on Android slates, putting calls and chats at the forefront where they can be easily seen and toggled through. The version 4.0 performance boost that was seen on smartphones is brought to Android tablet users with this version 4.4 update, as well, increasing both quality and performance over the previous version.
Says Skype, users who are operating on "good network conditions" will see a video call quality boost up to four times the resolution offered by version 4.0 and older, with both frame rates and clarity promised as improved. Kindle Fire HD and HDX users, meanwhile, are said to still have HD-quality hardware accelerated video.
Beyond that, the update also brings about some bug fixes, with Skype saying that there have been improvements to accessibility, offering complete support with TalkBack screen reader. Audio routing has had some unspecified changes, and enhancements have been tossed into the mix for UX and display when toggling between orientations. Rounding it all out is an update to issues with incoming calls that some have experienced, including one in particular that caused the device to reboot.
While the Play Store update is available now, Kindle Fire users have to wait until later this month.
SOURCE: Skype Blog