Skype arrives on BlackBerry Z10 as 10.1 update is on the way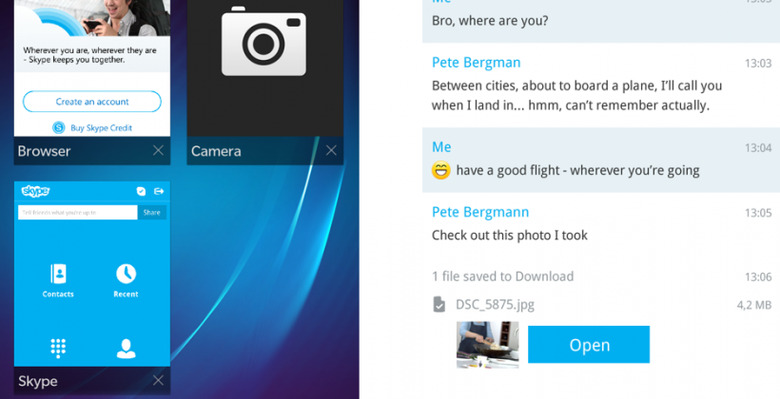 Today, Skype has announced that its popular video calling service is available as a preview for BlackBerry Z10 users. The app first rolled out onto BlackBerry Q10 devices last month as a preview, and now the Z10 is getting it's moment of video-chat glory. However, it seems a lot of the features in the app requires the BlackBerry 10.1 update, which will begin rolling out later this month.
The app includes all of the same features that you'll find on other platforms with Skype running on them, but on the BlackBerry Z10, the Skype app seamlessly integrates with the phone book and BlackBerry Hub, making it the process a bit easier to make a video call to a friend or family member.
The app is available now to download from BlackBerry World, but unless you have the new BlackBerry 10.1 update, you won't be able to download the free app, which is a little puzzling at this point, but it seems Skype simply wants to get the app out there beforehand, so that it's ready once the first batch of 10.1 updates starts rolling out to users. The 10.1 update will mostly come with tweaks and performance enhancements to the OS, but there will also be a few new features, such as an HDR mode for the camera, PIN-to-PIN messaging and email, as well as improvements to notifications.
Skype reiterates that this is simply a preview version of the app, so there may be bugs and there may be some features that will be taken away or added by the time the final version releases. The company said that they'll be working closely with BlackBerry over the next few months on the app, to make sure it's up to standards.
Along with the release of Skype for the BlackBerry Z10, BlackBerry also announced this morning that there now 120,000 apps in BlackBerry World. The company also announced the new BlackBerry Q5 QWERTY smartphone that will release later this year in emerging markets across the world. It's essentially the cheaper brother of the Q10, but still comes with the 3.1-inch touchscreen and the full physical keyboard, along with BlackBerry 10 running the software show.