BlackBerry Q5 brings QWERTY to emerging markets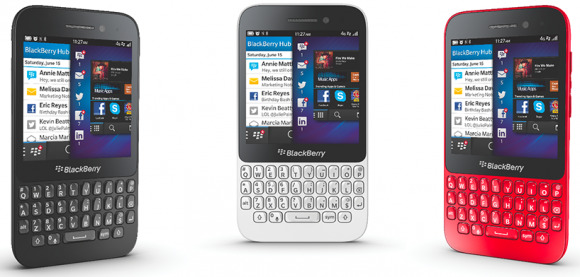 There's already a new BlackBerry 10 device with a full QWERTY physical keyboard, but there's another one coming to town — or at least in other towns that aren't getting the BlackBerry Q10. The BlackBerry Q5 was announced today, and it features a lot of what the Q10 has, including the touchscreen mixed with the physical keyboard, but it'll be catered towards emerging markets around the world.
The BlackBerry Q5 is being marketed as the low-end brother of the Q10, and it'll sport the same 3.1-inch touchscreen as the Q10, as well as the physical keyboard that button mashers will enjoy. It'll also come with BlackBerry 10 on board, meaning that users will have access to new features like Time Shift mode in the camera app and BlackBerry Hub.
The will be launching in three colors at launch, which include black, white, red, and pink. The Q5 is set to launch in regions of Europe, the Middle East, Africa, Asia, and Latin America starting at some point in July. The company didn't announce a price for the new device, but we're guessing it'll be in the lower bracket as far as cost goes.
This is the third BlackBerry 10 device that the company has announced so far. The Q5 joins the Q10 and the flagship Z10 smartphones as BlackBerry's trio of new devices that the company has announced this year. We know little specs about the Q5 right now, but we should be hearing more on that (as well as the price) when it gets closer to releasing later this summer.
BlackBerry also announced that the flagship Z10 in the US will be getting an update to BlackBerry 10.1 later this month. Exact dates aren't yet known, as it seems each US carrier will have to decide for themselves on when exactly to release the update to their Z10 devices. As for what's included in the update, it's mostly some tweaks and performance improvements to the OS, including notification enhancements, but there's also a new HDR mode for the camera app, as well as PIN-to-PIN messaging and email support.