Skype 2.6 for Android can send photos and videos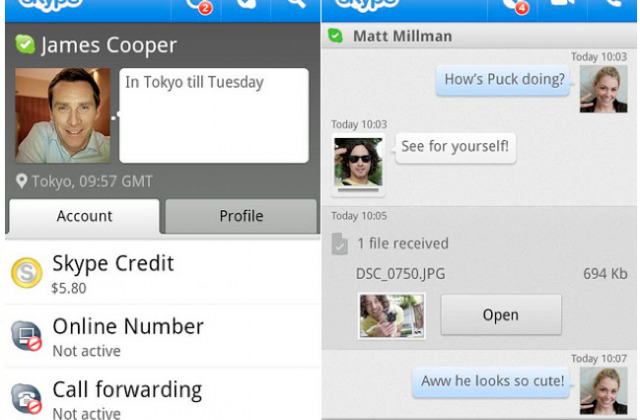 Skype rolled out version 2.6 today for Android that lets users easily send photos, videos, and files directly from the app. The update also features improved battery life and video quality on NVIDIA Tegra 2 devices such as the Samsung Galaxy Tab 10.1, the Motorola XOOM, and the Acer Iconia Tab.
Video calling via Skype on Android has been limited but the company continues to test and support new devices. Skype is expanding the whitelisted devices, ensuring that more handsets will support its video calling and provide an optimized video experience.
Some of the latest whitelisted devices include the HTC Amaze 4G and the Motorola DROID RAZR. Overall, almost any device running Android 2.2 Froyo or above can try out Skype's video calling feature. When you first start up Skype on a new non-whitelisted device, the app will let you know whether video calling can be turned on.
The app is free, but the service may require a 3G cellular plan when you are not connected to WiFi. The app can be downloaded at the Android Market.