Skyfire 2.0 for Android makes mobile Flash work [Video]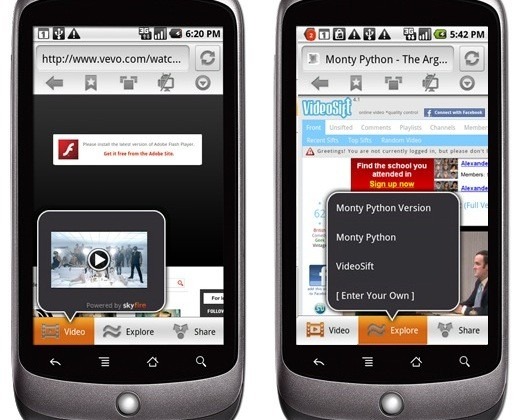 You can be sure that the irony of Skyfire launching their Skyfire 2.0 Flash-happy browser for Android within hours of Steve Jobs taking Adobe to task over Flash being unsuitable for mobile devices will be well noted, but don't let that distract you from just what's on offer here.  The big news is the new "SkyBar", which throws in automatic Flash video streaming for otherwise broken video links, together with social networking integration.Video demo after the cut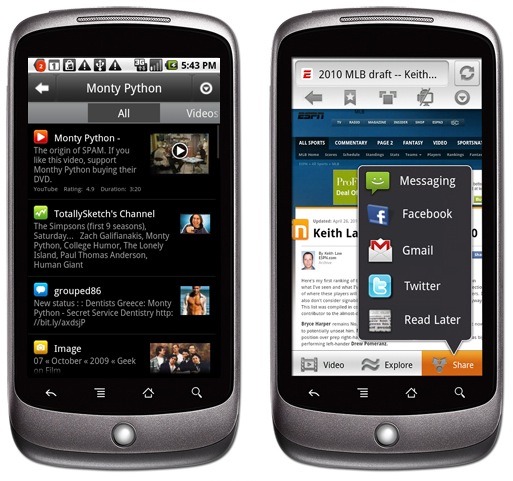 The browser doesn't actually play Flash videos as such – it uses a remote server to convert them, on the fly, to HTML5 and other formats that mobile devices are happier streaming.  So, if you come across a YouTube link, for instance, you can hit the video button and choose Skyfire's version instead, watching it in the browser rather than having to use a standalone YouTube app or wait until you're on your desktop.
There's also the usual multitouch gestures and tabbed browsing, and there's simple integration with Twitter, Facebook, Buzz and other social networking services.  You can download Skyfire 2.0 for Android by visiting bit.ly/skyfireandroid.
Press Release:
Skyfire Launches the First Flash Video Enabled Mobile Browser for Android

The first 'mobile browser for the Social Media generation' eliminates broken links from your Facebook stream, tracks Twitter buzz, and makes sharing easy

Mountain View, CA – April 29, 2010– Skyfire, maker of the award-winning web-browser for mobile devices, today launches Skyfire 2.0 for Android, making the mobile internet experience faster, Flash-enabled and fun, with media recommendations and social features. Skyfire is one of the fastest growing mobile browsers in the world, ranking in the top 10 all-time apps in the Nokia Ovi Store and Windows Marketplace.

Skyfire 2.0 for Android is built upon many of the popular features of Skyfire's 1.0 browser, and uses cloud computing to give a "booster engine" to mobile phones so they can handle rich media like video. And now, Skyfire 2.0 for Android takes mobile browsing to a new level with the addition of the SkyBarTM, a new toolbar that lets users enjoy millions of videos previously unviewable on mobile, and also discover the latest buzz on any topic they browse.

What is the SkyBarTM?

The SkyBar brings the best of the internet to a mobile user's fingertips, without any additional searching. By activating the SkyBar with a single touch, users are given access to Flash videos on a web page that otherwise would not play, related content recommendations, and easier sharing with their social networks.

· Video –The "Video" icon enables users to play millions of Flash videos around the web that otherwise do not play on mobile. This unlocks content trapped behind those error messages with question marks and blue Legos. Behind the scenes, videos are translated into a format easier for the phone to play, like html5 video.

· Related Content – The "Explore" icon brings the most relevant content on the internet to a user's fingertips based on what they are viewing at the time. The Explore button pulls video, buzz, news, images and other sites from the web based on what is on the current page.

· Sharing – The "Share" icon lets users share any article or video easily to their friends on Facebook, Twitter, or by email and SMS messaging, adding a comment, and all with a single click.

The first mobile browser for the social media generation:

"Skyfire 2.0 was built for the way people use social media and the web today. People are now starting their web experience by scanning their Facebook and Twitter news feeds," explains Jeff Glueck, CEO of Skyfire. "Our new browser allows you to open those links and view the videos that your friends have shared. To make that work, people need a browser that can handle the full internet."

The Power of Cloud Computing:

Skyfire on Android uses cloud-computing technology to enable this web video; the benefits for consumers include faster and smoother video playback, and extended battery life by offloading more of the work to cloud servers. At the same time, since Skyfire 2.0 is built on a webkit core, users get all the functionality they know on the default Android browser, such as pinch to zoom, copy and paste, find text on the page, open up to eight browser tabs, and more.

Skyfire is one of the fastest growing downloadable browsers with usage increasing 500% year over year, and currently streaming over 25 million minutes of Flash video every month, more than any other mobile browser worldwide.

Skyfire 2.0 for Android is available for download worldwide free at bit.ly/skyfireandroid

About Skyfire

Skyfire is the creator of the Skyfire mobile browser, and has a mission to enable the "full internet" including rich media on mobile phones. The browser won the Best Mobile Application-People's Voice at the 2009 Webby Awards and was named a Top App of 2009 by the New York Times' Gadgetwise. Skyfire is based in Mountain View, California, in the heart of Silicon Valley. For more information, visit www.skyfire.com, or follow Skyfire on Twitter attwitter.com/skyfire.