Skullcandy Air Raid Bluetooth Speaker Launched With Rugged Weatherproof Design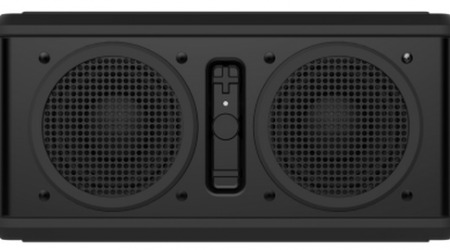 Skullcandy, purveyor of all things audio related, has announced a new Bluetooth speaker addition to its portable audio lineup: the Skullcandy Air Raid. With the Air Rand comes Bluetooth connectivity and support for several audio devices at once, along with a design promised to be "built like a tank," able to withstand spilled drinks, drops onto a hard surface, rain, and more. The speaker is available now from Skullcandy.
Being rugged seems to be the Air Raid's biggest claim to fame — not that it suffers in the specifications area, however — in that it is promised to handle whatever moisture inadvertently is splattered its way, both "heavy rain and light splashes". As such, users are told the speaker is ideal for use at the beach and at pool parties, among other situations, as long as you don't accidentally knock it in a pool of water.
The boot on the device can be removed to wipe up any liquid that does get on the speaker, while the faceplate is made of stainless steel, making it durable against both drops and simply less-than-gentle daily use. Beyond that is the speaker's specifications, which includes a 33-foot range and seamless playback. With seamless playback, two Bluetooth devices can be connected at once, with the speaker toggling to whichever is playing audio at the moment.
There are two 55mm drivers offering 88dB of audio, with the design intending to be placed so that the speakers are facing up. This results in what Skullcandy says is 360-degree audio for better playback in any given space. The battery offers up to 14 hours on a charge when the speaker is used at mid-volume, dropping down to five hours when the volume is at its max. The speaker is available to order now for $149.99, and begins shipping this Friday.