SkinnyBytes touchscreen All-In-Ones use ethernet power rather than AC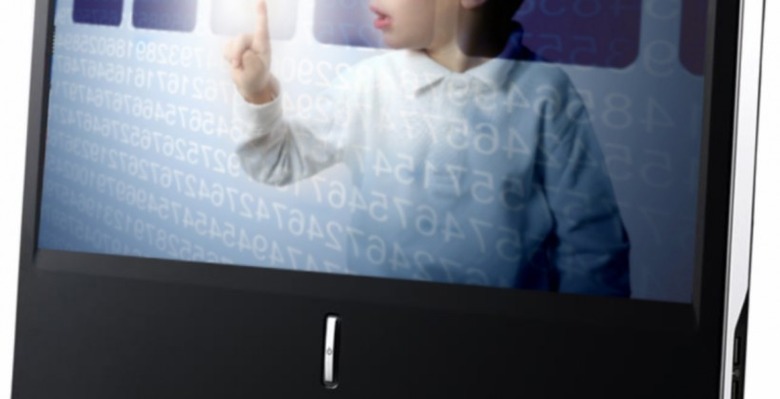 We've seen Power-over-Ethernet used to allow network CCTV cameras and IP phones cut the AC cord, but a full PC is somewhat rarer.  SkinnyBytes new touchscreen Windows 7 all-in-ones can run on less than the 30W of power PoE 802.3at supplies, thanks to Intel's Atom CPU range and passive cooling.
Despite the frugality, the machines are still reasonably specified for nettop-style AIOs.  Both 15.6-inch and 18.5-inch desktops are available, each with Atom D510 dual-core CPUs, 2GB of RAM, a 40GB SSD (80GB optional) and GMA 3150 graphics.  Connectivity includes four USB 2.0, a VGA output, multiformat memory card reader, audio in/out and gigabit ethernet.  No WiFi, but since you'll need a wired ethernet connection for power that's probably no great loss.
The 15.6-inch SkinnyBytes AIO kicks off at $899, while the 18.5-inch SkinnyBytes AIO starts at $999.  The company also offers PoE touchscreen laptops, which charge via the ethernet connection rather than an AC adapter.
[via iTechNewsNet]
Press Release:
SkinnyBytes Launches New Lineup of PoE Computers (Power-over-Ethernet) with TouchScreen, Tailored to the Needs of Business and Education

GILBERT, Ariz.–(BUSINESS WIRE)–SkinnyBytes has unveiled a new lineup of PoE Computers which are AIO (All-In-One) ranging in sizes from 8.9" to 18.5". As these systems are powered via Power-over-Ethernet they do not require AC power outlets. AC electrical power is expensive to install, and is far more dangerous than the low-voltage DC power provided by PoE. The significant cost savings coupled with a TouchScreen interface make these systems ideal for business and schools.

Value – Eliminating the need for installing an AC outlet can easily reduce the cost of installing new computers by 50% or more. Power-over-Ethernet computers are the ultimate Eco-Friendly computers consuming 90% less power than a traditional computer, drastically reducing your energy bills.

Safety – AC power is very dangerous due to the high-voltage/high-current it supplies. In classroom environments where the safety of the students is of paramount concern, it is hazardous to install AC outlets within reach of curious students. Power-over-Ethernet computers utilize low-voltage/low-current power over a standard network cable, eliminating the need to install these costly and dangerous AC electrical receptacles. This makes the PoE Computer the ideal Classroom Friendly Computers, including a standard TouchScreen interface making them perfect for interactive learning.

Technology – All of these PoE computers are compatible with IEEE standard 802.3at for Power-over-Ethernet, which describes providing up to 30 watts of power to a device over a standard network cable. Utilizing emerging technologies such as solid state drives, low-power Intel Atom Processors, LED backlighting, and passive cooling technologies that require no cooling fans, SkinnyBytes has created a product line of PoE computers that can run on a meager 30 watts of power without sacrificing performance. By eliminating moving components, we are able to reduce the power requirements of our systems by 90% compared with traditional computing systems.

All of SkinnyBytes' systems are tailored toward business and educational institutions. No moving components translate into highly durable and reliable systems. Every system comes with Windows 7 pre-installed and a TouchScreen interface for maximum flexibility and functionality.