Skiff Reader Uses LG Micro Foil Screen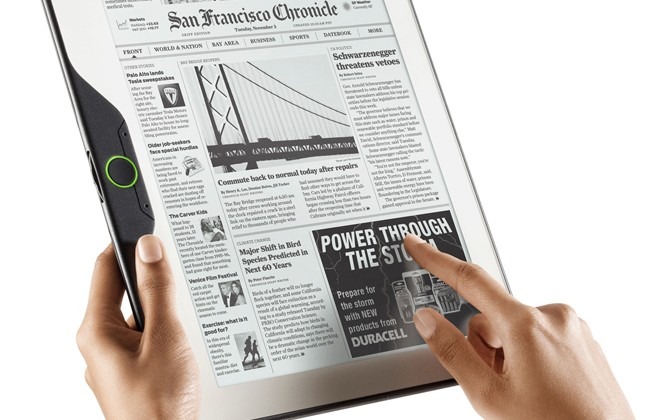 With numerous E-Readers on the market and many more to come at CES 2010 one in particular is trying to stand out from the crowd. Hearst Corp's Skiff digital media system and Sprint are going to be previewing their new 11.5 inch touchscreen e-reader at CES this year. Although there are many competitors, this particular reader has an ace up its sleeve: it has an 11.5 inch touchscreen microfoil display with a resolution of 1200x1600 making this the highest resolution E-Reader ever. It is also only a quarter inch thick making it the thinnest and largest E-Reader as well.
The Skiff E-Reader will also be receiving a screen using  the LG microfoil technology. Using a thin sheet of stainless foil in place of glass the micro foil E ink  screen is said to be far more resilient and durable than other E readers which use glass screens.
While there is no word on pricing or availability we do know so far that the Skiff will be sporting 3G and WiFi. And of course that massive screen which was said to showcase print media in "compelling new ways." Gilbert Fuchbsberg, president of  Skiff says " This is consistent with Skiff's focus on delivering enhanced reading experiences that engage consumers, publishers, and advertisers".
[via cnet]